Do you want to try shisha stitch, but you don't have any mirrors to practice with?
Are you working with mixed media, and you'd like to add a bit of paper and a bit of stitching to it?
Are you embroidering something that won't be laundered and want to add a special touch?
Did you know you can work the shisha stitch without mirrors? You can use it to attach practically anything flat or barely domed to your embroidery surfaces.
This little bit of stitch play came into being by accident.
I was preparing to work up a tutorial for traditional shisha stitch, which is a decorative technique of stitching down little mirrors onto fabric, but I didn't have any mirrors.
In fact, the whole thought of a mirror under studio lighting while trying to photograph a stitch tutorial seemed problematic to me, so I opted for card stock. After all, it's the technique that's being taught – once you know the technique, you can use it however you want!
I took out a 3/4″ hole punch and started sifting through my paper supplies.
In my paper supply box, I also stash away old notecards and greeting cards that I "recycle" in one way or another.
This happens to be a great way you can recycle a pretty note card! I figured if card stock would work as a substitute for a mirror, why not something a little prettier?
Using paper products in place of mirrors in shisha embroidery only works, of course, if you're not planning on laundering the embroidery or taking it out in the rain.
For playing around, for "sampling" stitches, for making mixed media art that won't be washed, and just for the fun of it, using card-weight paper cut outs is a fantastic way to play with shisha stitches!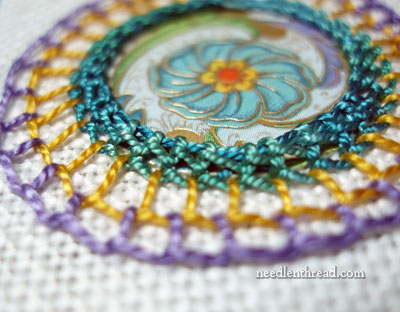 And of course, once you start playing, your stitched elements can grow and grow. Here, I've added a couple circles of buttonhole stitch around the central element.
You can find my step-by-step photo tutorial for traditional shisha stitch here.
I've also added three other variations of shisha embroidery to the Stitch Fun index. All three will secure small items to fabric, and they're all different and beautiful in their own way.
Erica Wilson's Embroidery Book has the best instructions for basic shisha embroidery, which involves a buttonhole stitch and a chain stitch worked around a base of foundation stitches. You can find Erica Wilson's video for shisha here on YouTube, which is very helpful if you want to play around with the stitch!
You can find more Stitch Fun articles here, if you're in the mood to play around with some stitches this weekend!
Have fun with it!