The cast-on stitch is a dimensional embroidery stitch. It sits up off the fabric, creating a textures stitch that works well for flower petals and for anywhere that you want clusters of texture on your embroidery.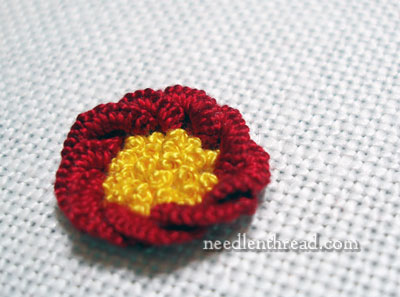 Cast-on stitch is widely used in Brazilian Embroidery, which is a very textured embroidery that focuses on floral designs. But no matter what type of embroidery you like to do, the cast-on stitch works brilliantly for adding dimension and texture. It's definitely worth learning!
In the video, I'm working with a #8 perle cotton, using a milliner needle. Using a milliner needle is really important when working these stitches that require the needle to pass through many wraps (like the bullion knot). The eye and the shaft of the milliner needle are the same size, which makes it much easier for the eye to pass through the wraps.
Here's the video! I hope you find it useful!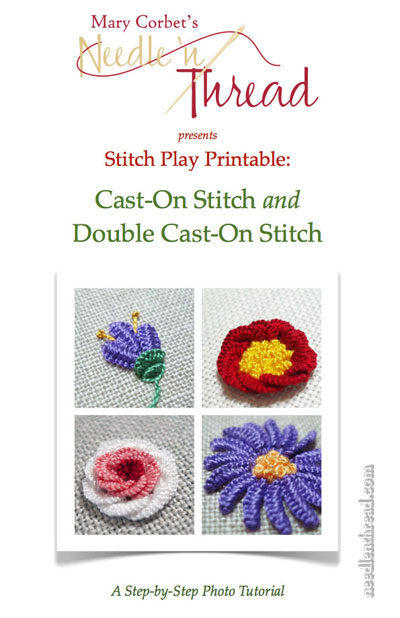 You can find a Stitch Play Printable with step-by-step photo instructions for cast-on stitch and double cast-on stitch, along with instructions to create four beautiful dimensional flowers, available in my shop, if you're interested in taking this stitch a little farther!
You can find a wide variety of embroidery how-to videos here on Needle 'n Thread, if you're looking for other stitches to try out. Feel free to peruse them all!
Looking for inspiration & information on hand embroidery?
There are all kinds of reasons to sign up for the Needle 'n Thread daily newsletter! Check them out and sign up today!
If you like what you see on Needle 'n Thread, if you want to be a part of keeping the website thriving (and free of annoying network advertising), why not become a patron on Patreon? Check out my Patreon page here, where I'll occasionally add special needlework bonuses for patrons.
If you shop on Amazon, you can support Needle 'n Thread without any extra expense to you by visiting my Amazon Recommendations page here, where you'll find books and sundries for the needleworker available on Amazon.