A couple months ago, in the Stitch Play series, we looked at the raised stem stitch and then at the Super Duper Raised Stem Stitch (Casalguidi embroidery). Well, here's a video tutorial for the raised stem stitch, which is a relatively quick and simple way to add dimension and texture to your embroidery.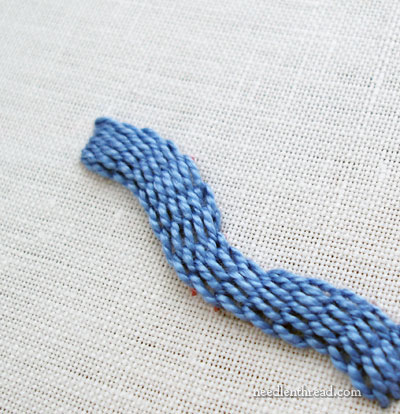 The nice thing about the raised stem stitch is that it is a quick way to fill up a raised space with embroidery. Once the foundation stitches are worked, the thread passes over and under the foundation stitches, but not through the fabric, which moves the stitch along at a rapid rate.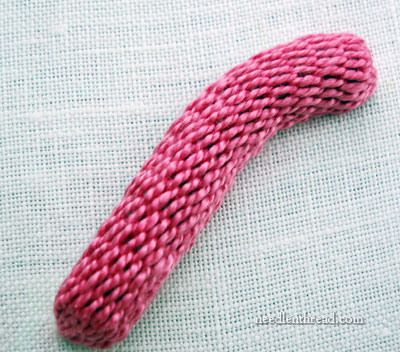 Casalguidi embroidery takes the raised stem stitch to even greater heights by working it over a heavy cord padding. To see Casalguidi stitch worked out step-by-step, you might take a look at this Stitch Play article focusing on Casalguidi stitch.
Raised Stem Stitch Video
In the raised stem stitch video below, I'm working with #5 perle cotton in two colors, so that you can easily see the stitch. You can work the raised stem stitch in the same colors for the foundation stitches and the stem stitch (which is how it would normally be worked as a filling). You can also work the stitch over much larger spaces as a filling stitch.
In the video, I don't wrap the first or the last foundation stitches in the band. Stitch dictionaries differ in their instructions on this point, but in fact, it doesn't make that much of a difference either way. In the Stitch Play article on raised stem stitch, I skipped the first foundation stitch, but I did wrap the last foundation stitch. You can experiment with it either way, to see which way you like it best. Personally, I find that wrapping the first foundation stitch makes the beginning too bulky, but wrapping the last foundation stitch works fine.
Here's the video. I hope you find some good use for this stitch!
Do you want more inspiration & information on hand embroidery?
There are all kinds of reasons to sign up for the Needle 'n Thread daily newsletter! Check them out and sign up today!
For more video instruction in hand embroidery, feel free to visit my collection of embroidery how-to videos here on Needle 'n Thread!
If you like what you see on Needle 'n Thread, if you want to be a part of keeping the website thriving (and free of annoying network advertising), why not become a patron on Patreon? Check out my Patreon page here, where I'll occasionally add special needlework bonuses for patrons.
If you shop on Amazon, you can support Needle 'n Thread without any extra expense to you by visiting my Amazon Recommendations page here, where you'll find books and sundries for the needleworker available on Amazon.