Happy Wednesday, Everyone! It's a glorious day here in Kansas – birds singing, sun shining, a light breeze blowing.
It makes me want to write about something sunshiny. And so, I'll write about my sheep.
Here's one of 'em! He's the newest in the flock. He fits within a 1.5″ square, turned on its point.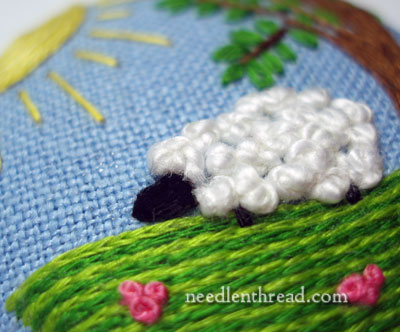 You might remember I showed you this fellow a while back. This guy fits within a 1.75″ circle.
So far, I have three sheepish cousins hanging around the workshop. The third one is the largest of all, shown below: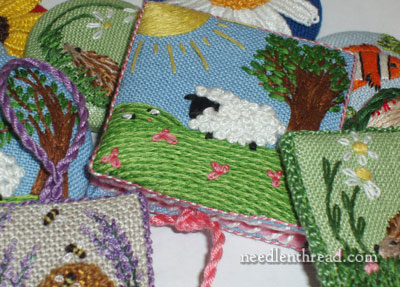 He's nestled into a 2″ square, along with two wee sheep in the background.
Lavender Honey & Other Little Things – Available Now!
If you're keen to stitch up some wee sheep – and a bunch of other little things – and make them into useful and adorable needlework accessories, then you'll love my e-book, Lavender Honey & Other Little Things.
In the e-book, which is quickly delivered to your inbox via a download link, you'll find ways to finish over 20 little projects! Lots of little designs, too – from beehives with bees, lavender, sunflowers, bunnies, sheep, even a hedgehog!
Check it out here, and have yourself some fun creating your own collection of Little Things!