It's been a while since I've taken you along on a Project Journey, hasn't it? Well, since the Medallion, anyway!
I'm setting off now on two stitching journeys simultaneously, each one vastly different from the other. One project, you see, is being prepared as a possible teaching project. This means it can't be published in full. The other is for collaboration on a book. And this means it can't be published in full. And now you are privy to my sad blogging dilemma! But we'll work through the dilemma, and hopefully we'll find an acceptable middle way. Throughout both journeys, I'll be sneaking you updates and even little embroidery tips that stem from the projects.
The first thing I did after working out the two designs was work up a color palette and think about threads.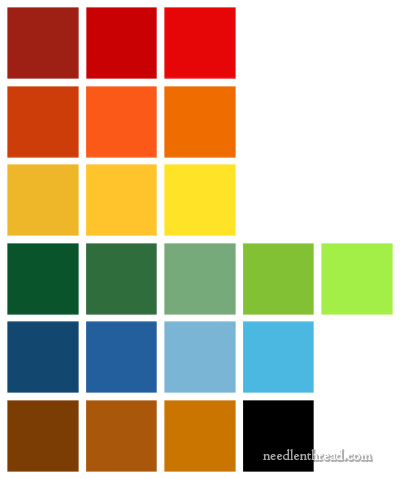 The first project, which we'll call Round for now, involves a range of colors. My threads? Not quite sure! If I reduce the project in size, I can work with a couple different types of silk. If I keep the design the size it is right now, wool is the only way to go. So I'm debating about the types of threads. I'll be digging into the thread drawers soon to see what I can come up with. Even if I go with wool for the majority of the project, I may mix some silk in there, too.
(I'm leaning towards reducing the size of the design and working the whole thing in two or three different types of silk. I can't help it. Silk, like the Sirens of old, just sings to me.)
The ground fabric? Round will definitely be worked on linen – white linen, no less. The look of the thing I'm trying to mimic requires a white background, definitely, and you already know I'm obsessed with linen, so that choice was easy enough.
And this is the type of project that will involve as many different stitches as possible (without detracting from the overall coherence of the project, of course!). Color + Stitch Variety = Excited.
So, more on this little fellow later on! I can't wait to start stitching on him!
The second color palette, for a project I'll call (for now) The Needle is Mightier than the Pen (or Pen, for short), isn't so difficult to come up with. It will either be this black silk collection from Au Ver a Soie, or it will be a collection of various whitework threads. I haven't decided yet if I will work the project in black on white, or white on white. Or two projects, one each way? Or a combination of black and white in one project? This, I'm still debating about, but I've got the fabric set up and the design ready to transfer, so I'll be making the decision pretty soon!
For the ground fabric, I'm using…. (now, this'll be a surprise)… linen.
Sigh. I'm so predictable.
Those are my next Big Projects. They'll easily take me through the end of the summer and well into the autumn months. And probably beyond.
I'll keep you updated on progress along the way!
And now, I better go clean up my workspace so I can get some stuff done…! Enjoy your day!