Today, because it's Monday and it's always good to start the week on an Up Note, I'm going to give away an embroidery book!
Initially, I was going to give away two embroidery books today. But I have all kinds of Monday Morning Excuses why I changed my mind. The dominating reason, though, is that the books are completely unrelated (except in their use of needle and thread), and it occurred to me that, while you might really want one of them, you might not want the other. And what if you won the one you didn't want??! Oh gosh! That would be the pits!!!
So I decided to do them separately. Today's give-away: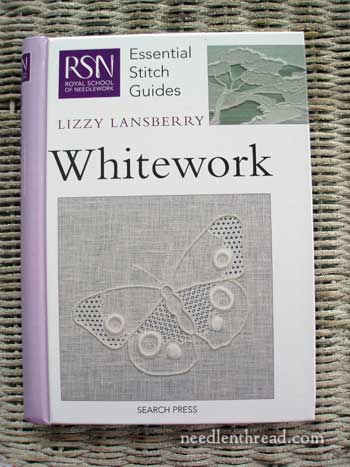 Yes, yes! You have the opportunity to win a free copy of the Royal School of Needlework's new Essential Stitch Guide on Whitework embroidery. If you don't know what this book is all about, you may wish to read my review of it, where you'll find a detailed description of the book and lots of photos and lots of reasons why I like it!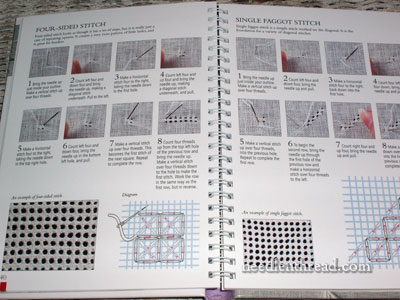 The way it works is this:
1. Leave a comment on this article on the website (not via e-mail or on any other article on the website) by Saturday, August 18, at 5:00 am Central Time (that's for Kansas, USA). On Saturday, I will announce the winner. The give-away has ended! Thanks for participating!
2. In your comment, answer the following:
What's your all-time favorite embroidery technique and why do you like it?
(For example: Are you completely besotted with crewel work because you like fuzzy wool? Are you a counted thread person exclusively, because you like working from a chart? Are you a goldwork junkie, because you're addicted to metal threads? Do you prefer whitework, because you like the pristine purity of white-on-white embroidery? Are you a general all-around surface embroidery nut, because you like playing with all kinds of threads, colors, textures, stitches, fabrics….? 'Fess up! What's your needlework passion?! If you're just starting out and you haven't quite developed a needlework passion yet, just tell us what you like doing most with your needle and thread.)
3. Please (pretty please, with sugar on top) leave a recognizable name, either in the "name" line on the comment form, or within the text of your comment. Instead of just signing "Pat," for example, you might put Pat in Punxsutawney. Get it?
4. Keep an eye out next Saturday to see if you've won, so you can contact me with your mailing address. I'll order the book and have it shipped directly to you as soon as I hear from and confirm the winner.
See, isn't it simple?! So, sign up below if you're hankering to get your hands on this new book from the Royal School of Needlework! Do, do! You'll love the book! You'll learn a lot from it! You want it! You know you do! Enter my give-away! Please! I'm begging you…
Enjoy your Monday! (For those of you ending your Monday already, I hope it was a good one!)