I admit I went way overboard on this one! What I intended to be a quick, basic tutorial turned into something so thorough that by the time you finish going through it, you will be a master of the Interlaced Herringbone! You'll be able to do it in your sleep…
Stitch Printables: Interlaced Herringbone Stitch is a 37-page PDF booklet on the Interlaced Herringbone Stitch. I know what you're thinking! 37 pages on one stitch?! Don't worry – I'm thinking the same thing!! But in my defense, the page count includes table of contents, resources, printable charts, and the like.
As you work through the tutorials in the booklet, you'll learn how to work the double herringbone stitch and the basic interlaced herringbone band, and then how to work the band around a corner. After that, you'll learn how to work it on a whole frame, and finally, how to work it on a circle. The booklet is arranged from the simpler to the more complex, so that you can build your skills as you work through the booklet.
The booklet begins with a materials list and information for left-handed stitchers. The whole booklet is organized with a table of contents so you can easily navigate through the tutorials, and it ends with a resource page, listing places where you can find all the materials I used throughout the tutorials.
The printable is filled (and I mean filled) with color, step-by-step photo instructions, covering everything from starting and ending your threads (two different ways), to mapping out the layout of the design, using it on even-weave fabric, transferring your design to plain-weave fabric, to stitching each step of the double herringbone stitch, lacing the double herringbone stitch, starting new threads – you name it. Anything you need to know about the interlaced herringbone, it's in here.
The instruction in the Printable is rounded out with clear diagrams, to make sure you understand the placement of the stitches and how they all work together.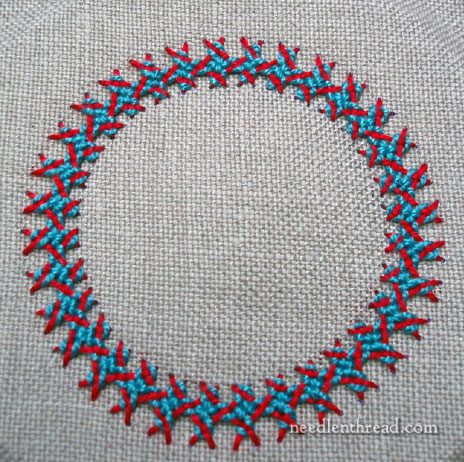 By the time you work your way through the Printable, you'll be able to figure out exactly how to work the interlaced herringbone in any stitching situation.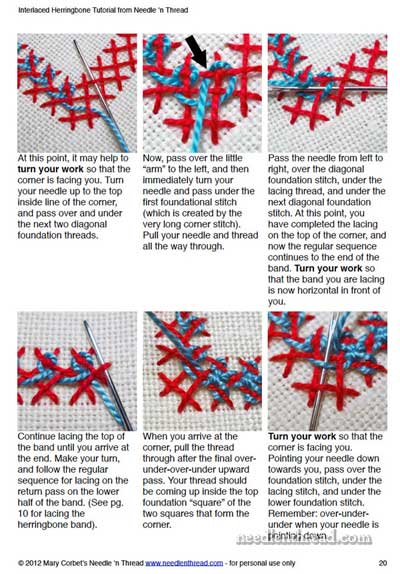 Once you've saved the Printable to your computer, you can refer to it on your computer without going online, you can print the whole thing and save it in your own stitch binder, or, to save on paper, you can print just the pages you need, to learn the things you want to learn. To save on ink, you can print using a "draft" setting on your printer or you can print in black and white. So how you use the Printable is up to you!
You'll find Stitch Printables: Interlaced Herringbone Stitch available in my shop here on Needle 'n Thread. The booklet is $5.
Stitch Printables: Interlaced Herringbone Stitch comes to you in PDF format (11.5MB). It is delivered through an auto-download, so shortly after your purchase, you'll receive an e-mail with a download link in your inbox. If you have any difficulties with the procedure, just let me know and I'll help you out.
And of course, you aren't at all obliged to purchase the Printable to learn the basics of this stitch! You can find a free tutorial for interlaced herringbone here. But if you're looking for more thorough instruction and problem-solving with the interlaced herringbone, you'll find all that in Stitch Printables: Interlaced Herringbone Stitch!