Though I've often asserted I'm not a "collector" of scissors or other needlework tools, fact is – I have quite a collection! What a paradox, eh?
Ah, but I don't collect these things simply because I want to collect. Rather, I acquire them so that I can know what other people are talking about, using and recommending. This helps me make recommendations with greater confidence. Hopefully, these recommendations will, in turn, help you.
Yeah, yeah, yeah! It's just a good excuse, right?!
Since our last little discussion on embroidery scissors, when I showed you a pair of bad little embroidery scissors, I've gotten my paws on two brands of embroidery scissors that are new to me, but that were recommended by readers. Today, I'd like to show you one of them – I like these scissors very much, and I think they're an affordable option for a good pair of embroidery scissors.
Premax ring-lock embroidery scissors are made in Italy. This particular pair is about 3.5″ long.
Apparently, this "ring-lock" system sported by this line of Premax scissors is supposed to keep the blades stable and set precisely for life, while giving professional sharpeners-cleaners-grinders the ability to take the blades apart, do their jobs, and put them back together with exact precision. I don't really know about any of that. But there is one reason I like the ring-lock system….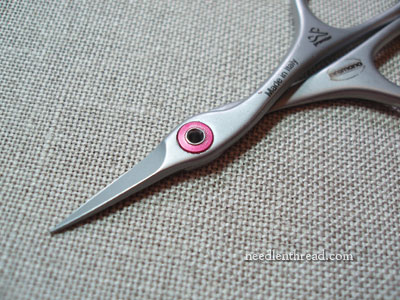 I like the ring-lock system, because it makes my scissors look like they have big pink googly eyes. It gives them personality.
Yep. I'm so superficial!
Does the ring-lock system work, and does it make the scissors any better than other good scissors? I really can't vouch for it – I haven't had the scissors long enough to notice any difference because of the ring-lock.
Pros of the Premax Ring-Lock Embroidery Scissors
While the idea of the ring-lock system on the scissors is not a "sell point" for me, what I do know about the scissors now that I've been using them for a while is enough to sell me on them:
1. They are sharp. (Sharp-sharp.)
2. The blades are small and precise.
3. They feel good in the hands – they have a good, balanced weight to them.
4. They have a super-smooth cutting motion – there's not tick or catch when cutting. (In this regard, they feel like my Dovo scissors).
5. The finger holes are comfortable.
6. I like the finish (a matte brushed finish, rather than shiny, plated finish).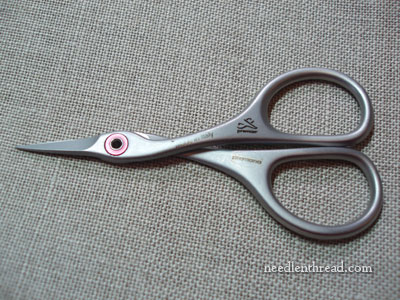 It's true that this particular pair of Premax scissors is not beautiful to behold – it doesn't look like some delicate piece of sliver finery or anything like that – but when it comes to scissors, function is at the top of the list for me. I don't much care for pretty scissors that don't do what they're supposed to do. And I don't much care if my scissors are really ugly, if they do their job well.
Good Embroidery Scissors that are Affordable
Finally, these are good scissors that are more affordable than Dovo and similar scissors. They run anywhere from $25 – $33 a pair, depending on where you get them. I got mine from Anita's Little Stitches, where she happens to have them on sale for $24.50 right now.
Now, just a note: I've not tried other Premax scissors. They have a huge line of options for embroidery scissors: decorative handles, 18th century reproductions, and so forth. I've not tried any of those, so I can't really vouch for them, as far as the feel, the mechanical workings, the sharpness of the blades, etc. I can only vouch for the one pair that I do have – it's a terrific little pair of scissors!
What's Your Criteria for Embroidery Scissors?
Incidentally, what do you look for in a pair of embroidery scissors, that makes you consider them good? Are you a "connoisseur" of scissors, with a particular set of criteria by which you judge them, or do you just want a pair that does its job: it cuts thread, and that's all that matters? Do you lean towards attractive scissors? Or does functional fill the entire bill for you? Or do you want a combination of attractive and functional? How do you judge a good pair of scissors? What draws you to them? Feel free to tell by leaving a comment below – your insights may very well help others select their own scissors with care!