Here are some thoughts to chew on – six points that I think are worth considering about hand embroidery.
Consideration #1: on Learning Hand Embroidery
Hand embroidery is an easy and pleasurable skill to learn, if you have an interest in learning it. The ease with which you learn is proportionate to the interest you have in the subject.
However, interest does not equal easy in every aspect of hand embroidery (or really, in learning anything)!
The more enthusiasm you have, the more likely you will persevere through more difficult aspects of hand embroidery.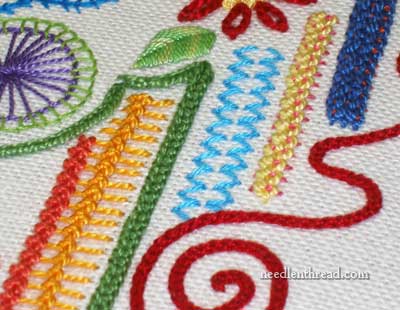 Consideration #2: on the Uniqueness of Hand Embroidery
There are hundreds and hundreds of hand embroidery stitches, most of which cannot be duplicated by machine. There are also hundreds and hundreds of embroidery techniques, styles, and regional-specific traditions.
Hand embroidery is a unique, personal, and very human art.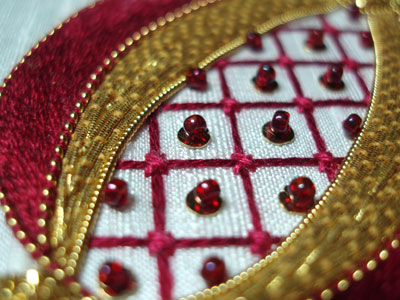 Consideration #3: on the Cost of Hand Embroidery
Basic hand embroidery is inexpensive to undertake and accessible to most economic levels.
However, like all hobbies, arts, and crafts, hand embroidery grows in cost proportionate to the techniques pursued, the supplies accrued, the skills achieved, and the time invested.
Certain hand embroidery supplies are expensive because of the quality and scarcity of raw materials involved, the skill and time required to make them, the limited and specialized market available for them, and the risk and investment involved in making them available.
Yet even considering the costs of fine and specialized embroidery threads and specialized instruction in hand embroidery, hand embroidery instruction and materials are more widely accessible today to people in every walk of life than they ever have been in the history of hand embroidery.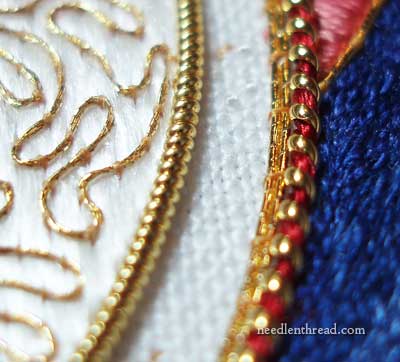 Consideration #4: on the Cost / Time Relationship
The most valuable aspect of hand embroidery is Time.
Time implies two things. It obviously implies the literal passage of minutes, hours, days, weeks, months, and years that we put into accomplishing something.
Time further implies the love and care we have for something, whether it's embroidery or anything else. We do not, by nature, put a lot of time into things we do not love or care about. If we love or care about something, we will devote more time to it.
So our Time is valuable, not only because it is our time and we can never get it back, but also because it implies the love we have for something.
In relation to the value of Time, the cost of good and appropriate materials for a given project is negligible, even if the materials are expensive.
Consideration #5: on the Tools and Materials of Hand Embroidery
Investing in the right tools and the right materials (good quality fabrics, threads, needles, and so forth) increases both the pleasure of the experience and the outcome of the embroidery.
It is always well-worth investing in the best tools and materials one can afford.
This point implies an opposite consideration: that poor quality materials and the wrong tools can make embroidery frustrating and can often impair the outcome of even the heartiest of efforts.
Consideration #6: on the Freedom of Hand Embroidery
Although there are specific ways to make individual stitches, and although there are embroidery methods that are more efficient or more logical than others, there is no "one right way" to do specific types of hand embroidery. General methods in different hand embroidery techniques vary between instructors, between books of instruction, and between "schools of thought" in embroidery. Once the foundational concepts are learned, the individual has much freedom for interpretation.
It is a limited mind that says, "This is the one-and-only way to do this and any other way of doing it is inferior."
Your Thoughts?
What do you think? Feel free to comment below if you have any further thoughts to share, or even if you want to take me to task for any of the above!
For further reading, you might enjoy these articles on Needle 'n Thread:
5 Things You Need to Know about Hand Embroidery Fabric
Five Things You Need to Know about Hand Embroidery Needles