Here are five points that deserve emphasis when considering the ground fabric for hand embroidery:
1. Importance of the ground: The "ground fabric" (the fabric on which you work your embroidery) is as important as the design, threads, colors, and techniques that you employ – and sometimes, it's more important!
2. Quality: Any fabric can be embellished with hand embroidery, but some fabrics are better than others. Better fabric always yields better final results, and usually, you get what you pay for. Don't put money and time into an embroidery project that is worked on cheap, low-quality fabric that isn't suited to hand embroidery. If nothing else, the fabric won't last as long, and your embroidery efforts will not look as good as they could.
3. Grain: Fabric has grain. There's the lengthwise grain, which runs parallel to the selvedge (the edges as the fabric comes off the bolt). There's the "cross grain" which runs perpendicular to the selvedge. And there's the bias, which runs catercorner to the length & cross grain. Squaring up the ground fabric so that it can be mounted to a frame (or in a hoop) on the grain lends to better results. Mounting your fabric off grain often leads to puckering or warping.
4. Support: Weight & weave, stitch type & density need to be considered when choosing a fabric. The ground fabric needs to support the type of stitching you plan to do. Denser, heavier stitching generally requires stronger fabric with a weave that will hold the stitching. The opposite is also true: light, delicate stitching will be lost on burlap.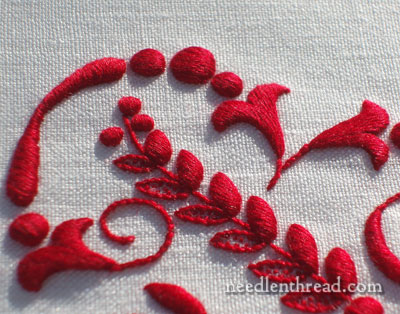 5. Care, Preparation, & Use: Consider how the project will be used before you select your fabric. If the project is meant to be laundered, or will be used on an item that may need laundering, or will be displayed in a place that will require its being cleaned now and then, choose a ground fabric (and an embroidery technique) that will withstand laundering. When working with linens and cottons, pre-shrink your fabric and rinse the sizing out. Some experts say this isn't necessary, but in fact, it never hurts to rinse out and pre-shrink linens and cottons before you start stitching. Better safe than sorry.