Sometimes, we run into those stitchy situations where we need a wee bit of sparkle in our embroidery – whether it's because we like sparkle in general (I'm kind of like a crow that way) or we're creating something that normally has a bit of iridescence to it (like bugs' wings, for example).
The other day, when finishing up the second-to-the-last model for this collection of Little Things, I decided that the bee's wings on Lavender Honey needed something. Plain white floss just wan't going to cut it. I considered using silk rather than cotton (the hive is wool and silk, the bee is wool, the flowers are silk), but … it still didn't quite do it for me.
Keep in mind, the bees on this Little Thing are pretty small – about 1/8″ long, tops – so their wings are small, too. The thread for the wings needs to be fairly fine.
And then I remembered!
There's a new collection of Bijoux thread out this year. These new threads all have white cores, as opposed to colored cores. The metallic threads around the core are silver (silver glint), opalescent (diamond glint), gold (white gold glint), and darker gold (bronze glint).
Bijoux is a actually a blending filament that you can add to other threads you're stitching with, for subtle sparkle. Unlike some other blending filaments on the market, though, Bijoux is very strong, and it holds up well to surface embroidery stitches. You can use Bijoux quite easily on its own.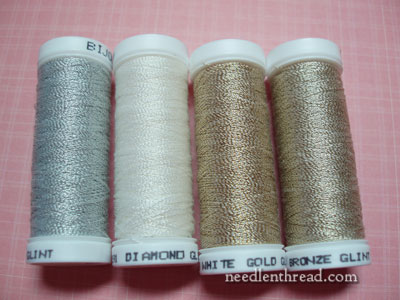 Well, what I found with these new white-core Bijoux threads (and especially with Diamond Glint, which is opalescent) is that they make great bug wings. You can double or triple the thread in your needle for a bolder effect, too. For the bee above, I used three threads for the wings.
I'm planning on trying Bijoux for with detached buttonhole stitch, to see how it will work for stumpwork-type wings. I am confident it'll work well. When I get to that experiment, I'll let you know how it goes!
You can find Bijoux thread at Stitching Bits and Bobs online, where you can see all the colors offered in the line. You can also find Bijoux at Needle in a Haystack – I think the images on Needle in a Haystack for most of the threads are actually a better representation of color.
So, there you have it – if you're looking for something for bug wings, or you just want to add a little sparkle to your embroidery, try Bijoux!
Lots of nifty stuff for you this week, including a new video and a printable, some thread talk, and the initial stages of project preparation.
Have a swell Monday!