Around this time of year, my stitching thoughts wander off to the world of ornaments, cards, gift tags, and the like. It's inevitable. It happens every year! Though my thoughts turn that way, this doesn't necessarily mean I have the time or opportunity to indulge in making elaborate ornaments or gifts. And so, perforated paper comes to mind.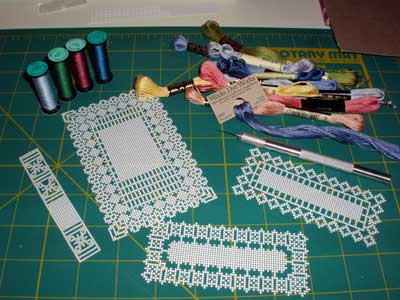 Update, 2020: Tokens & Trifles is no longer in business.
I've written about perforated paper and embroidery before. For example, several years ago, I showed you these little name plates on perforated paper that I cut into lacy cards. I still have an inordinate love of this kind of lacy paper. I like the concentration and focus it takes to do this type of cutting accurately. I find it relaxing. And I love the results! But good golly, Miss Molly! I haven't had time to indulge in the pursuit much anymore.
If you like the idea of embroidering little tokens on perforated paper but the thought of cutting your own paper leaves you a bit muddled, that's ok! See, there's a company out there that makes perforated paper cards, ready for embellishment, and it's appropriately called Tokens & Trifles.
Recently, Tokens & Trifles launched a new blog, and in it, they offer free designs and ideas for perforated paper embroidery, with the promise of discussing the history of perforated cards. I think it'll be an interesting and fun blog to watch, and I'm especially looking forward to the whole "history" aspect of it.
Perforated paper for embroidery and other embellishment was popular in the Victorian era, when the industrial revolution made it possible to mass produce precisely punched card for these pursuits. Pretty little pictures or mottoes of friendship and love, of inspiration and kindness were stitched on punched paper and given as tokens to friends and loved ones. These cherished relics of the Victorian era are still around – you can find them displayed in museums, for purchase in antique shops, and occasionally nestled in old books. They are treasures that speak of human affection in a bygone era.
Tokens & Trifles resurrected this whole idea and created a line of punched paper cards that are perfect for card-making, gift-giving, scrapbooking, and really any occasion that we'd like to give a heartfelt token to someone else, or make for ourselves. The inspirational graduation bookmark, the Christmas card, the Thanksgiving table name plate, the Halloween doodad, the birthday sentiment, the note of encouragement, the kind and thoughtful word of recognition or gratitude – these can all find expression on perforated cards.
You can even make needlework accessories with them, using a couple cards together to make scissor keeps, needlebooks, and small baskets to hold pincushions! The website is full of ideas like this – the scope for these little cards is quite broad!
The cards come in a variety of shapes – the tokens and trifles cards are standard shapes like rectangles, circles, ovals, and so forth, while the "trinkets" cards are specialty shapes, like stars, stockings, crosses, mittens, hearts and so forth. There are build-able shapes (like basket cards, confection cards, and bon bon cards), as well as pretty kugel shapes for ornaments. You can find all their shapes illustrated on their products page.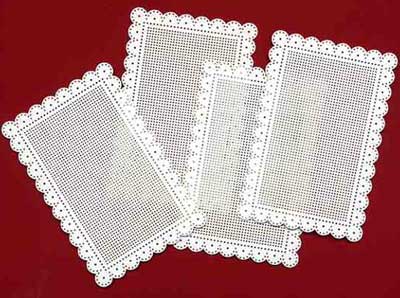 The cards are either 18 or 20 count, and as a matter of fact, right now, they have a sale on the 20 count cards, so it's a good time to try them out. And if you're just wanting to play a bit with them – to try them out – you might take a look at their limited edition page, where you'll find a collection of "seconds." These are slightly flawed, but you get more for less. They'd be great for practicing and playing, or for mixed-media and paper crafts.
What I really like best about the Tokens & Trifles cards is that they are extremely well-made. Unlike the 14-count paper that's available here in the US for perforated paper embroidery, the cards by Tokens & Trifles are high quality – the paper doesn't split into layers, the finish on the paper is beautiful, the cards are durable, and of course, the finer perforation counts makes the embroidery more delicate and beautiful.
Incidentally, if you are looking for good card for your own cutting and embroidery, the best place to get it is in France, through Cousines et Compagnie, where you can find perforated card with about 18 holes per inch.
But if you don't have time for your own cutting, Tokens & Trifles is the way to go! Check them out while their sale is on!
Absolutely no affiliation here – just a heads up on some fun embroidery stuff out there!