Last week, we took a glance at an old fragment of goldwork and silk embroidery. As promised, we're going to look at it a bit closer today.
Here's the whole fragment. The whole fragment is about 13″ wide and 10″ high. The design is obviously one of those leafy acanthus designs that have come down through the ages from Renaissance Italy. In the comments on the original post, one reader suggested the dots look like eyes, and Philippa Turnbull suggested the same thing – that it is a rendition of the Renaissance green man often seen in stonework, architecture, and art.
Whether that was the intention of the design – to look like the Renaissance green man – is not certain. The piece is definitely not that old. I'd say it's from the first half of the 1900's (before 1950). And I'd say that the fragment comes from a vestment. It fits perfectly an area of a typical pattern from "Roman" style vestments – the back of the vestment, just below the neck and working down towards the "transom" of the cross. There is no clue as to why it was taken apart or this fragment cut from it. My guess is that it was probably the most salvageable part of the embroidery.
The red silk used to outline the central section of the design and the goldwork relief is worth taking a look at. This is a thicker, softly twisted red silk, very similar to Trebizond silk thread available today. The stitch used to create the outline in the red silk, from a distance, might be confusing. The red outlines are simply very long split stitches, with the split being taken right at the tip of the stitch. In some areas, they are just long straight stitches.
Because of the twist of the silk, it looks like a cord that could be couched, or, in some cases – such as its use in this photo below:
– we might be tempted to think at a glance that there's some stem stitch or something going on here. But that isn't the case.
This is a good example of how an outlining thread can be used, and how the outline can be worked up quite quickly on a piece like this. The disadvantage of doing so (with such long stitches) is that the stitches are less stable. The advantage of long stitches for outlining, besides the fact that longer threads work up more quickly, is that the embroiderer (passing through a couple layers of fabric and over other embroidery stitches) is not as taxed (it is hard work, working a thick thread like that with a heavier needle through layers) and the embroidery (especially those gold purls) is less likely to be marred during this final step of finishing the embroidery.
Here, you can see the red silk up close again…
… and if you look at the back of that area, it should become more clear what's going on, on the front of the work. Here and there you see, on the back, some little back stitches that are consistent with long split stitches, and a lot of threads crossing hither and yon.
Incidentally, The thicker white-ish thread there – it looks like cotton string (and it is) – is actually the couching thread for the gold. They used a fairly heavy cotton string for the goldwork technique. We'll talk about that goldwork technique down the road.
But back to the silk…
Sometimes, the stitches aren't split.
It's a beautiful red silk thread. I don't particularly like it's use in combination with the other color choices on the piece, but on vestments, I've often seen red used to outline goldwork elements on lighter backgrounds, to make the goldwork stand out.
You can see a split stitch in this photo, about halfway down the length of the gold there.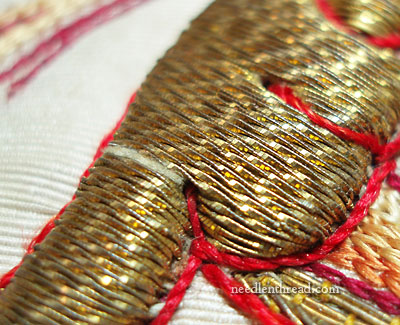 Speaking of the goldwork, above you can see where a certain level of "dissection" can take place. Splits like this excite me!
Now, don't get me wrong! I'm not a cad, I'm not a destructive person who just wants to tear things apart to look inside them! But this particular fragment offers these little areas where we actually can access the inside without being a Major Force of Destruction.
I'm not an advocate of dismembering pieces of old embroidery – and in fact, when possible, I do my best to salvage pieces that would otherwise be disposed of or reconstructed (and usually quite poorly) into something else. But when a piece like this – which is not particularly valuable as an historical example, and which is not particularly valuable as an example of excellence in workmanship – comes along, I do use it as a piece of study, taking apart areas that already have damage to them and that are already "opened up" for exploration. We can learn from them!
In all cases, though, unless you really know what you're doing, do get some advice before you rip into a piece of old embroidery or reconstruct it into something else!
Ok, ok. We're not going to rip into this… we're just going to look at it!
See the split? It's there, because that particular little piece of goldwork relief was bent and the card inside broke. The threads separated enough for the edge of the card to peek out. None of the metal threads here broke. They just moved aside.
And there's the inside!
It looks quite fuzzy, doesn't it? Part of that is because of the close-up photography. To the naked eye, it doesn't look this fuzzy. It looks like a peice of heavy-weight card or paper that is backed with a thin layer of dark felt. Think in terms of a pressed-paper board, that you could pull apart in layers (especially after time has passed), and you'll have the right idea of what this stuff is like.
Goldwork in this type of relief work is found on a lot of finer, old vestments. The stuff used underneath this type of relief work varies. I've seen forms made from carpet-like felt covered with card, from carpet felt covered with fine yellow cotton. I've seen forms made from soft balsa-like wood. And I've seen forms made from (this is just unbelievable) stacked newspaper, pressed together and sewn into place. Literally, yes, printed newspaper.
This latter point, I've never understood. Why newspaper? It would be easy to say "It's all they could afford" or all they had available, but when you're talking about this type of goldwork (those threads have never been "cheap"!), it just boggles the mind that newspaper would have been used to pad it.
This is a technique we will look at together some day. I probably won't use newspaper, though…
Next time, I'll show you the inside of one of the purl areas, where the threads were broken and the purls were loose. We'll look inside that, at the padding used there. That padding, incidentally, also helps date the piece a little bit.
If you have any questions or comments, feel free to leave them below!