Last month, I introduced you to a hand embroidery thread that's not quite on the market yet, but hopefully, will be available next year some time (fingers crossed!). It's called silk gimp, by Access Commodities. You can read about it in this article on silk gimp, and you can also see the autumn tree I embroidered with it in this article.
When we were discussing the silk gimp, several folks chimed in with the information that Pipers Silks also makes silk gimp. I thought it would be fun to compare the two. I ordered some of the silk gimp made by Pipers so that we can look at both types up close and perhaps understand better the structure of different threads and their uses.
Pipers Silks Silk Gimp
Pipers silk gimp comes in several different weights, because it is essentially a lace-making thread.
In the photo above, you can see Pipers Silks gimp in a glorious royal blue, thread weight 30/3. This number implies a three-ply thread of 30 weight plies, so it's a relatively heavy thread. (In thread, the lower the number, the heavier the thread. The second number indicates the number of plies.) It reminds me of a buttonhole silk, but it's slightly stiffer than buttonhole silk.
You can see the thread up close here. You can see that it is a twisted thread, with the typical rope-like structure of a twisted thread.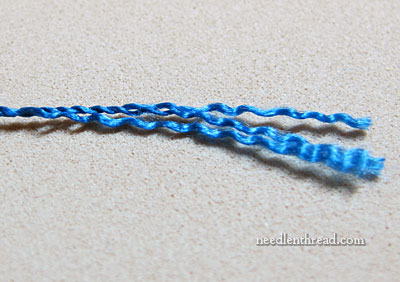 If you unravel the ends, the three plies come apart. It is a filament silk with a high sheen, but again, it is slightly "stiffer" than most twisted filament silks.
This type of gimp can be used for embroidery (more on that below), but it is meant for lace-making and tatting and the like.
Access Commodities Silk Gimp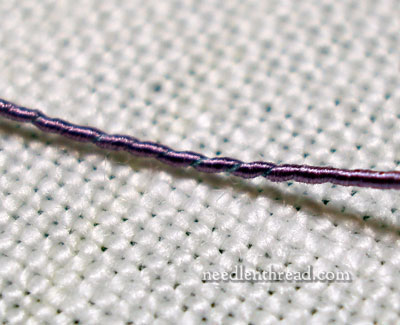 This is the silk gimp that I was playing with last month, by Access Commodities. You can see the difference in the structure – the outside is made of a very smooth wrap of flat filament silk, around a silk core, giving the gimp an incredibly smooth finish that does not resemble a regular twisted embroidery silk.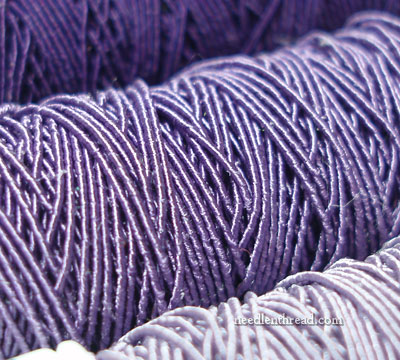 Again, the Access Commodities silk gimp. Notice that it is not made of plies of silk twisted together. There's no rope-like look here.
Here, the AC silk gimp is couched in lines to form tree branches. It is a very supple thread, very fluid, with no stiffness. It's a very fine thread (it's tiny – you can see a comparison picture in this article). It takes more careful handling and requires some getting used to – it's not quite like other threads you'll encounter in your stitching life, which makes it very difficult to describe.
Differences Between the Two Silk Gimps
1. There's an obvious difference in structure. Pipers silk gimp is made from plies of silk twisted together. Access Commodities silk gimp is made from a core of filament silk, around which is wound flat silk, resulting in a smooth, almost tube-like surface around the core.
2. There's a big difference in the way the two threads handle. The Pipers gimp handles like silk thread, and depending on the weight (it comes in various weights) some seems a bit stiffer than others. The Access Commodities silk gimp is fluid and supple, with no stiffness about it at all.
3. There's a difference in the way they are used and what they're made for. The Pipers gimp is made for lace-making, tatting, and the like. It can perhaps be used as a finishing "cord" for small things, too. And it isn't unfeasible to use it for some surface embroidery applications. Because of its rope-like structure and slight stiffness, though, it would not "blend" the same way other silk threads would. Think of it more like a buttonhole silk that would work well for certain types of individual surface stitches – that would make good crazy quilt seam treatments and the like. But it's definitely more of a tatting / lace-making (maybe even crochet) thread than an embroidery thread.
Access Commodities silk gimp is made specifically for hand embroidery, and, as its 17th century counterpart, would be used mostly in surface couching, detached stitches, and the like. It's not a lace-making thread.
4. There's a huge difference in the way they look. Most of the Pipers silk gimps look like ropes (see the exception below). Access Commodities silk gimp looks more like a smooth, tubular thread. This goes back to the whole structure point in #1, above.
More Pipers Silks Silk Gimp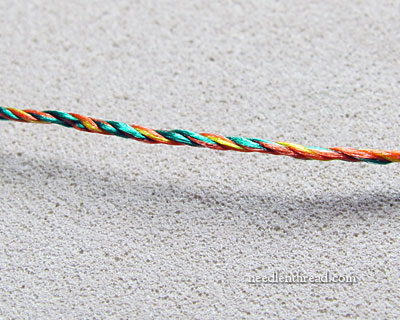 Here's another example of the Pipers Silks silk gimp – one of their heather colors. It's a very sunset-ish color scheme in filament silks, all rolled into one twisted silk thread, speckled with color.
I like it! Can't you see it on a Southwest-flavored crazy quilt seam, or something like that? I like the way the individual filaments separate in their whole colors, but when they're together, they almost look like little splashes of paint along the thread.
Oh, silk! It's such amazing stuff!
This is another type of silk gimp from Pipers – it's their 480 gimp. It's a thicker, stiffer, filament silk, with the filaments twisted together in long twists, which makes that surface finish look very smooth.
It has a beautiful sheen, and it's surprisingly stiff. Not wiry, mind you – just stiffer than you'd expect a filament silk to be.
You can see that it's made up of four plies, but they aren't twisted in short, tight twists – so it doesn't look as rope-like. You can often see this type of gimp outlining various design elements in different types of laces.
So those are the two types of silk gimps, just to show you the difference between them. I think both threads are really interesting, and I'll be playing with them a little more. I'm eager to fiddle about with the Pipers gimp, to see how it would work in certain types of surface stitching. So I'll show you that a bit down the road!
Questions? Comments? Ideas? Thoughts? Speculations? Have your say below!