Thread Addiction. I suffer from it. Do you?
The main target of my addiction is silk, with a hefty helping of gold thrown in for kicks. I can't help it! Threads – especially silk and gold – are my One Weakness. (Please don't bring up linen right now, ok?)
I've tried to overcome the problem, but I've discovered that it's much more fun to talk to my support group (um, yes… that would be you) about threads than it is to try to kid myself out of my love for them.
Well, you know what They say: All good things in moderation! Right? So let's have a nice little moderate chat about a "new" (old!) thread on the market called Silk Gimp.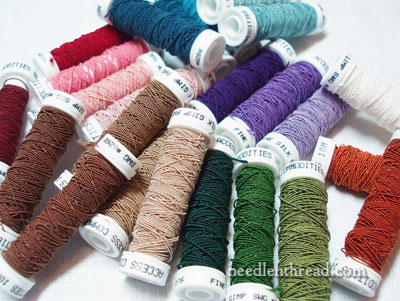 What is Silk Gimp?
"Gimp" is not really anything new. Gimp is simply cord. Silk gimp used in embroidery is not new, either. It's been around for hundreds of years, was prevalent in 17th century embroidery, disappeared for a while, and has been recently resurrected and introduced to the needlework market.
As an embroidery thread, silk gimp is unique, luxurious, and downright gorgeous.
Silk gimp is a very fine, very special thread. Made from filament silk (it has a wonderful sheen!), silk gimp consists of a silk core wound with a silk outer layer.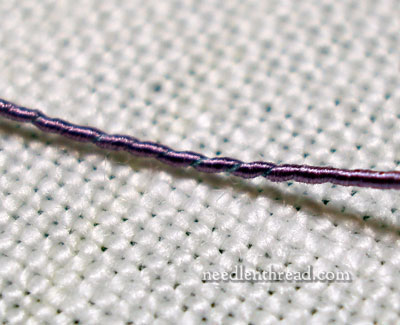 This is silk gimp up close. It's resting on a 40 ct linen. See the wraps? The silk core behind the purple is blue, and you can barely see a bit of it there, peaking through.
Now, there's the same silk gimp in the lower part of the photo. Above it is a #5 perle cotton, which looks comparatively huge. So, silk gimp is fine.
Here, you can see the center core thread in blue – it's a small bundle of flat filament silk. The purple coiled thread above that is the outer layer of silk, which has been twisted and wound on the core, and still maintains its curly twist when it's removed from the core.
Silk gimp, then, is not like any other thread. It is thread-on-thread, and with it, you can create some very interesting effects that you wouldn't get from regular thread, if you tried to do the same thing with regular thread.
If you're familiar with smooth passing thread used in goldwork (flattened gold wire wrapped around a core thread), you might see a similarity here. They are very similar, except that silk gimp lacks the wiry stiffness of gold passing thread.
How is Silk Gimp Used?
Well, now! That's the fun question! While the thread has been resurrected for use in historical re-creation-type embroidery, I think that it has a place in the modern needlework market, even for those of us who are not primarily focused on faithfully re-creating historical needlework.
Silk gimp works very well couched, just like smooth passing thread in goldwork. But it can also be used for other types of stitching, such as detached filling stitches (detached buttonhole, trellis stitch, and the like) and other loop-type, lacing stitches (such as Pekinese stitch, interlaced herringbone stitch, laced backstitch, and the like).
Admittedly, it isn't the best thread for repeated surface stitching that requires passing through the fabric a lot, although it can handle some limited surface stitching when used carefully.
Playing with Silk Gimp
To get the hang of using silk gimp – to see what it can do, how it looks when it does it, and how easy or difficult it is to do it – I decided to Play.
I didn't try every possible type of stitch – rather, whatever came to mind as I was sitting at the work table.
Since I have recently been playing with plaited braid stitch, and since I know plaited braid stitch is workable with smooth passing thread, I thought I'd see how it would work with silk gimp.
It does work, and with a little patience and care, it can work well. Some things that I learned:
1. Never try to "sew" with the silk gimp. If you are working stitches that require you to pass into and out of the fabric, do so with the "stab" method, where you take the needle and thread all the way through to the back and all the way through to the front again. It also helps to enter the fabric with the needle perpendicular to the fabric – so, straight in, and straight out – rather angling the needle.
2. Use a needle that is larger than you think you need. You really want to open up the fabric for the gimp to pass through easily. Chenille needles work ok, but I preferred using a Japanese hand made needle (#13), because the smooth round eye is less likely to mar the thread where it passes through the eye.
The plaited braid stitch was slow going with the silk gimp – but it did work, and I may explore this a bit further, later.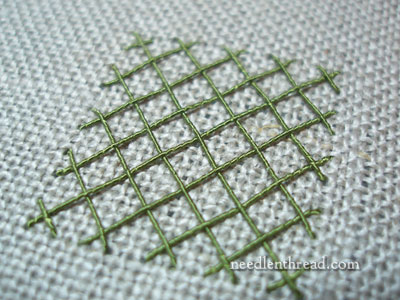 Because trellis work passes through the fabric very little, I stitched down a grid of interlocking trellis, just to see how it would look with the silk gimp. I like it a lot, and plan to play further with laid threads and laid thread fillings, as well as woven fillings.
I didn't couch over the intersections in this trellis above, since the lines were interwoven, but while looking at it, I realized that it was the perfect ground for this stitch:
The interlaced maltese cross is very much like the interlaced herringbone stitch, only I've worked them here as single "units", and the lacing is worked twice. I'm going to try the interlaced herringbone with the silk gimp, too – the thread takes these rounded, lacing movements really well. I suspect it will make Magnificent knotwork.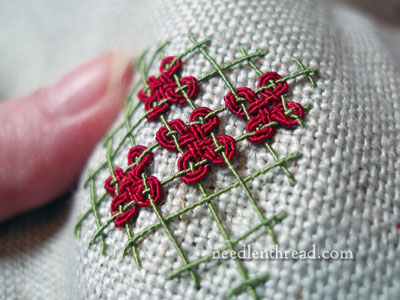 Just to give you a sense of proportion, you can see my alien thumb in the background there…
Burden Stitch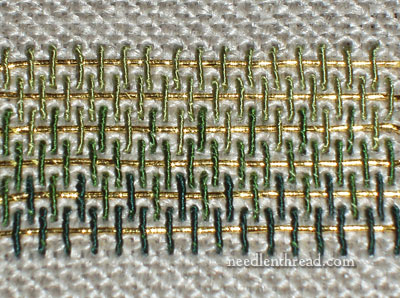 This is burden stitch, above. Normally, the silk gimp would be the couchee, not the coucher, but in the example above, I used shades of green silk gimp to couch lines of imitation Japanese gold threads. The gimp makes the couching stitches almost look like very fine bullions. It's really pretty in this application, I think!
And because silk gimp comes in shade families, it works really well for this type of tecnnique!
For some reason, I got it into my head to try raised cup stitch with the silk gimp. It worked. So definitely think in terms of stumpwork stuff for this thread!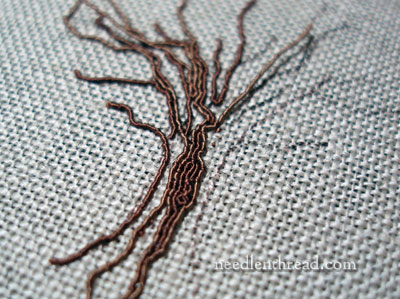 One of my most engrossing experiments with silk gimp involved a tree. I was just going to couch strips of gimp in the shade families they come in, and I probably will still do that for the fun of it, but I kept looking at the browns, which are Really Magnificent Browns, and … next thing I knew, I was couching silk gimp into a tree.
Silk gimp and couching go together like bread and butter. This is my favorite use of the thread so far. It's so easy to couch this thread, and it looks terrific when couched! My mind is now a-whirl with all kinds of couchable ideas!
Unfortunately, I've gone through the stuff like a bird slurping worms. For one thing, it did take time to get used to the thread, so there was a little waste involved in that process. And then, for another, once you start playing with this thread – wow! The ideas just keep coming!
Where Can you Find Silk Gimp?
Silk gimp is a glorious use of silk, and a unique, beautiful embroidery thread. There's really no other embroidery thread like it, and it produces a look that no other thread can produce. I'm hoping it's going to be around to stay.
Silk gimp is not on the market yet, so you can't actually find it anywhere for sale right now. I've got my fingers crossed that we will see it begin to trickle out in 2013. Here's hopin'!
Enjoy your weekend!