It's the last day of the year! And to celebrate the end of 2012, let's find out who won the Coton a Broder thread set from my give-away last week!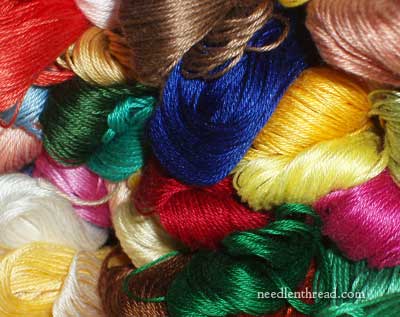 Thanks again to Joady at Hedgehog Handworks for putting up this wonderful gift for one of you! Joady recently had occasion to use coton a broder in one of her own stitching projects, and she liked it so much that she decided to stock the whole line of coton a broder 25 in all available colors at Hedgehog. I'm really excited about that, because now I can find literally all my favorite-but-not-available-locally threads in one place.
Needlework Daydreams!
Wow – we all have them, don't we? And they're all fairly similar. Some of the most common answers to the question What's your embroidery daydream? included more time, dedicated workspace, an isolated week or so for stitching, classes at the Royal School of Needlework or the EGA or Beating Around the Bush, organization and supplies …. I recognize those daydreams, that's for sure! You've all pretty much voiced my own thoughts on the matter!
Thread Winner
Time for the randomly drawn winner. I know, I know. There's only one winner! If I could spread thread worldwide, I would!
But I'm very happy for Stephanie Melton, who gets the whole lot. Here's Stephanie's embroidery daydream:
My wish list can't be narrowed down to just one thing. I would love to go to classes to learn the stitches I can't seem to grasp from books and meet other stitchers. And time. I would love to add 2 hours to the day just so I can stitch in peace. My two toddlers seem to eat the entire day and with Daddy in Afghanistan for another 9 months, I steal precious minutes when I can. I didn't find time, classes or people under my tree yesterday so my wish list will have to keep to another year. Stephanie at Ft. Bragg
Well, Stephanie, you didn't get time, classes, or people under your tree – but I hope you enjoy the threads! Please contact me with your mailing address and I'll get the set off to you as soon as possible – hopefully even today, since tomorrow's a holiday.
Thank you, each of you, for participating and sharing your daydreams! I loved reading them. We're all such kindred spirits, aren't we?
Happy New Year's Eve! How are you ending 2012? Here in Kansas, I'll be organizing and preparing some stuff for you for down the road – all the while, waiting for a little snowstorm to hit (fingers crossed!). Wherever you are, whatever you're doing, I hope the last day of 2012 is a good one for you!