Happy New Year, Everyone!
For 2013, I wish each and every one of my readers a year of blessings, joy, happiness, peace, success in all your good endeavors, and good health!
2012 was an adventurous year on this side of Needle 'n Thread. My greatest needlework accomplishment of the year was the Medallion Project, which I finished in May. Since then, all my other embroidery projects have seemed very small in comparison. In fact, did I actually accomplish much of anything with my needle after May? I'm beginning to wonder!
Backward-Forward List
1. At the end of 2011 and the beginning of 2012, my first online needlework classes made an appearance, and they went well. They taught me that online classes in embroidery are definitely doable, and are probably, in fact, the new paradigm in embroidery instruction. More classes are on the horizon for 2013!
2. In February of 2012, the "Stitch Fun" series took off, and over the year, about 25 stitch tutorials materialized in that series. I plan to continue the series in 2013, and expand it a bit.
3. As an off-shoot of the Stitch Fun series, some Stitch Printables came to be. These are printable e-books that explore in-depth a few complex stitches, including interlaced herringbone stitch, cast-on and double-cast on stitch, and plaited braid stitch (the easy way). More in 2013? You bet!
4. During the summer of 2012, some embroidered Little Things made an appearance. These were intended to morph into affordable project e-books that instruct in finishing small embroidery pieces into some useful little embroidered items. In 2013, the instructions will make their little debut.
5. In the second half of 2012, I updated all but 14 of the embroidery stitch videos on Needle 'n Thread. The rest are coming in the first part of 2013 – along with a few more, and a surprise!
6. This past autumn, I experimented with a new thread called silk gimp and embroidered an autumn tree. This turned into developing some designs for future projects, at least one of which is slotted for 2013.
7. During the last three months of 2012, I embroidered a project for inclusion in a book (authored by Jessica Pigza) to be published in 2014.
8. And during the last two months of the year, the Hungarian Redwork Runner project came into being. This is my grab-'n-go, stitch-when-I-can project that will probably last through the first couple months of 2013.
New Year Resolutions
I make resolutions. I try to make very specific resolutions each year, because the more specific a resolution is, the easier it is to stick with it and to be accountable for keeping it.
That being said, admittedly, I don't always keep my resolutions, and I rarely keep them exactly as they were written. I often tweak them as the year progresses, to keep things realistic.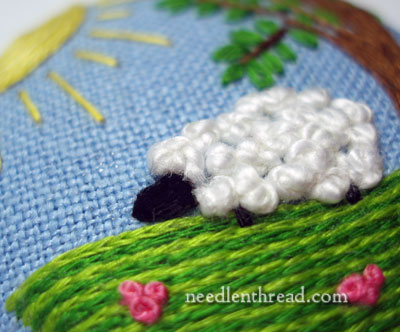 I'm always an optimist at the beginning of the year. Everything is sunshiny at the start of a new year – a fresh start, a new year with no mistakes in it (no mistakes in it, yet!). Catch me two months into the new year, and I may be chattering to a different tune!
Two New Resolutions
This year, I've added two new needlework-related resolutions to my list.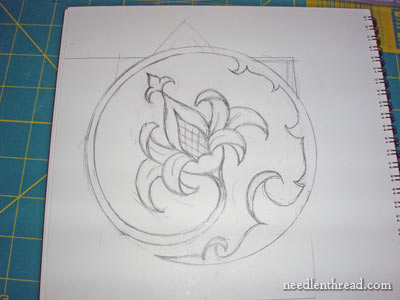 One involves a sketchbook.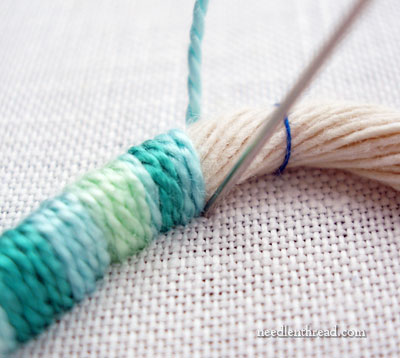 The other involves creating tutorials.
On my list, I've written them like this:
I resolve to produce a Sketch a Week. I will spend at least half an hour each week, doodling up something in the sketchbook. Reasoning: this will push me to develop more design ideas, will give me an archive of idea starters, and will keep the juices flowing.
I resolve to develop Five Tutorials a Month. I will schedule time to work up at least five needlework-related tutorials per month. These can be related to anything needlework. I will photograph and write instructions for each, and either publish them immediately on NNT or keep them for future website content. Reasoning: this will keep me focused on instruction and will provide solid instructional content for NNT.
There they are. Let's see if I can keep them – along with the rest of the resolutions on the list!
So, what about you? Do you have any needlework-related new year's resolutions?
My very best wishes to you and yours for a Happy 2013! Thank you for all your inspiration, encouragement, and enthusiasm over the years. Needle 'n Thread would not be the same without YOU!