The start of a new year often involves resolutions to learn something new, or to do something different during the course of the new year. Here are four needlework possibilities that you might want to explore, if you're itching for some new direction in needlework for the upcoming year.
Paint and Embroider a Landscape
The first possibility: how about learning how to combine paint and embroidery in a landscape?
Margaret Vant Erve is a needlework / textile artist from Canada who specializes in embroidered and mixed-media landscapes. I love her work!
Her landscapes are beautiful! They remind me of … well, ok. They remind me of Kansas. I suppose most people wouldn't take that as a compliment! But there are some beautiful spots in Kansas, and Margaret's open fields and farmy landscapes smack of home to me.
I like the cows (actually, I think they're bulls), and they way they look at you.
Margaret's teaching an online class in landscape embroidery through CraftArtEdu, called Meadow Landscape. The class consists of video lessons and 2 downloadable PDFs. You receive a class handout (a PDF that takes you step-by-step through the project) and a PDF of the sketched pattern for the meadow landscape, along with access to five videos that range anywhere from about 10 minutes to 25 minutes each. You supply the materials. I haven't had a chance to look at the class content in-depth yet, but from what I have seen, it looks good – like a good starting point for this type of textile art. If it's something that snags your interest, you might look it up. It's definitely a class for those interested in combining painting (on silk) and embroidery in a landscape.
A note on the CraftArtEdu classes: There's no class / teacher / student interaction (from what I can see) in these classes. It looks like they fall into the category of "instructional packets with some video," more than an interactive class. Just so you know…
Try Needlepainting or Advance Your Skills
Second Possibility: Give needlepainting a try! If you've been embroidering for at least a little while and you want to learn needlepainting or advance your shading and color skills a little bit, here on Needle 'n Thread, we'll be running the Vintage Strawberries class again early this year.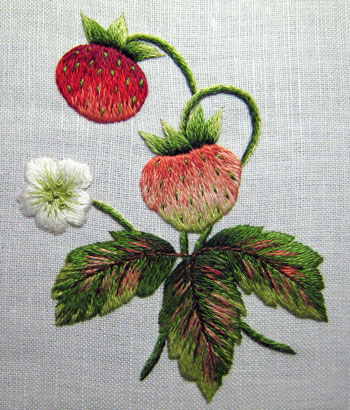 I'll be announcing the details close to mid-month. The class will probably sell out very quickly, so I will let you know in advance exactly when opening registration will be announced, so you can get your foot in the door if you want to take the class! Look for that information later this month!
Embroider a Grizzly Bear!
Third possibility: Embroider a bear! So you've been learning needlepainting and you've conquered flowers a bit, and now you want to try something a little more robust? You might check out Tanja Berlin's new Grizzly Bear needlepainting kit.
In fact, if you're itching to try a new embroidery technique this year and you want to start with a good kit, I highly recommend any of Tanja's embroidery kits. They are well-written, thorough, and they include everything you need to work the project (aside from hoop or frame and scissors). She has whitework kits, goldwork kits, blackwork kits, Jacobean kits, needlepainting kits, shadow work kits…. there's lots to choose from!
Expand Your Schwalm Whitework Repertoire
Fourth Possibility: Whitework!! You love whitework? You love Schwalm whitework and white-on-white folk embroidery in general? You might think about checking out Luzine Happel's new Schwalm books. Yes, they just keep coming! Luzine is a prolific writer about Schwalm embroidery, and I reckon if you make your way through her books, you'll be an expert by the end of the journey!
Luzine has two new books out – Schwalm Crowns and Grand Schwalm Crowns. Both books are packed with line drawings for "crown" designs in Schwalm whitework.
Luzine's books are self-published, spiral bound books packed full of good information and patterns. If Schwalm whitework strikes a cord with you, but you don't know where to start, feel free to read my review of Luzine's book, Basic Principles of Schwalm Whitework. This book is a great starting point!
Your Plans?
So, what about you? Do you have any new needlework plans for 2013? Are you going to try something different? Explore a new technique? Start a big, new project? If you could learn any technique you wanted to this year, what would it be? Is there any specific technique you'd like to see available as an online class here on Needle 'n Thread? Leave a comment below!
Tags