Here on Needle 'n Thread, I like to index each step-by-step project in one place so that it's easy for you to find it and follow the various articles in the series. You can find my indexed step-by-step projects under Tips and Techniques, at the top of the page, under Hand Embroidery Lessons & Step-by-Step Projects.
The purpose of today's short article, then, is to create an index for the Hungarian Redwork Runner project. Here, I'll list in chronological order every article that has to do with this project, from development through finishing.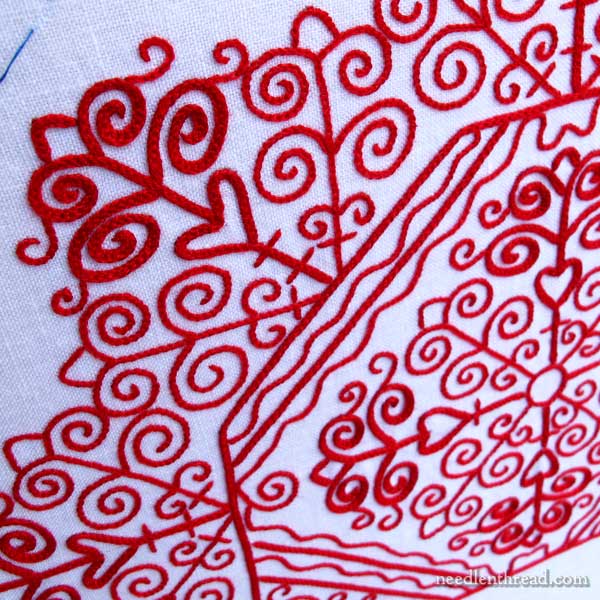 You're welcome to follow along on this project, to stitch along with me, or to save it for later. All the information on it will be here, whenever you need it.
What Can You Learn from This Project?
Even if you don't plan to follow along by actually stitching the Hungarian Redwork Runner, I hope you will find the articles useful and informative.
I'll definitely be including tips along the way that you can apply to your own embroidery projects.
And of course, mistakes are part of just about every embroidery journey. Mistakes are a great way to learn, so I have no problems at all in showing you my mistakes (I make plenty of 'em!) and working out how to fix them…. or at least, how to minimize their impact!
Hungarian Redwork Runner – Article List
As the project progresses, I'll add the links to each new article related to it below. Here's the list of articles, so far:
The Original Hungarian Redwork Design
First Design Alterations
More Design Alterations
Clover Transfer Mesh
Final Design Preparations
Selecting Threads and Stitches
Testing Threads for Colorfastness
Preparing Linen for Embroidery
Basting in Design Layout Guides
Embroidery Design Transfer
Embroidery in Hand, No Hoop
Coton a Broder on Pull Skeins
Tips on Starting & Ending Threads
Project Progress – Filling in the Inside End
The Inside End Area – Filling Complete
Working the Outside Elements of the Design
A Little More Progress
One End Finished!
Redwork Runner: Slow Progress – Working towards Half-Way
Picking Out Red Embroidery Threads!
Reaching the Halfway Point – and a Preview of the Finished Runner
Trying the Tambour Needle on the Redwork Runner
Using Reverse Chain Stitch
Runner Progress – the Other End
More Progress – Slow, but Getting There
The Chain Stitch is All Finished!
Stalled, but not Forgotten
Stitching towards a Deadline
Finished Embroidery
Washing & Blocking the Redwork Runner
If you have any questions, suggestions, or comments along the way, feel free to leave a comment (here or below any individual article in the series) to have your say!