Moving towards the finish here with the Hungarian Redwork Runner!
I hope I'm not going to shock you, but after finishing all the embroidery (even the last couple bits I mentioned the last time we visited the project), I tossed the runner in the washing machine.
Yes, red embroidery, white linen, and the washing machine. Oh, and a bit of detergent.
I didn't really pause to wonder if it was a bad idea.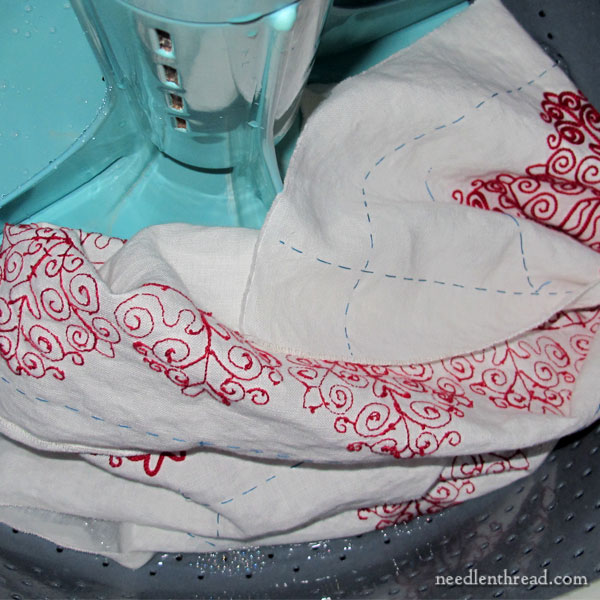 See, the way I figured it was this: I made the runner for a dining table. Most dining tables in my range of experience undergo various activities, one of which is dining.
And when dining happens, it is likely that any white linens on a table may very well get spotted. Most people who experience spots on their table linens don't necessarily meticulously hand wash them. They put them in the laundry.
Now was just as good a time as any, to test whether or not this piece would make it through the wash without incident.
So I tossed it into my very old washer, along with a splash of Biz, and put it on a gentle cold water wash with a 20 minute soak.
Are you thinking the red threads ran on the white fabric? (Gosh, wouldn't that be a hoot?!)
They didn't. The white came out brilliant, pristine white, and the red came red, just as it should have. How did I know the red wasn't going to run? Well, at the beginning of the project, I put an embroidered sample through a cleaning and ironing test, to make sure that the red threads would not run. Always a good idea, when you're doing a lot of stitching with red thread!
When I took it the runner out of the washer, I rolled it up in a towel, and transported it to my workroom, where I have a very large cork board, just waiting for projects like this.
Onto the cork board went the runner.
At first, I began pinning it like I do when I damp stretch any small embroidery project.
But golly gee! It took about 70 pins across the short end of the runner. At that point, my thumb decided I didn't need to pin it quite so thoroughly. So I pinned about every 2 – 3″.
The piece was still quite damp when I stretched it. Once it is completely dry, I'll give it a good ironing, cut off the excess around the edges, and hem it.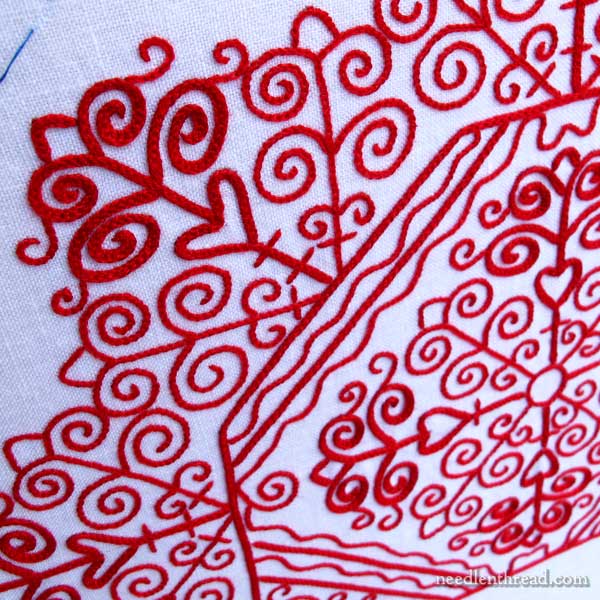 Originally, I wasn't sure if I would hem the corners on an angle, following the shape of the design, or if I would hem the piece with square corners.
I've decided on square.
The edge of the piece could possibly be worked with a red decorative stitch, but I think that would be overdoing it.
Right now, my plan is a hem with a drawn thread area – something very simple, like regular hem stitch.
To make sure I was sure about not doing angled corners and a red edging, I dropped it into Photoshop:
The edge is a little close, the Photoshopped version is a bit wonky, and the red on the edge is a little more solid than it would be, stitched. But still, it gives a general idea of what the runner would look like, if I took the angled-corner approach with a red edge.
Ehhhh. I don't like very much.
One thing I love about this runner is the crisp white of the ground fabric in contrast with the red embroidery. To get the best effect of the contrast, I think the corners should be square to give it some room, and the edge should just be a simple white hem (perhaps with some hemstitch).
What do you think? You're most welcome to weigh in with your opinion below!
In any case, it may or may not be finished by February 14th. I'm shooting for that, but I won't promise!
If you'd like to follow along with this Hungarian Redwork Runner project, you can find all articles relating to it, along with patterns and so forth, in the Hungarian Redwork Runner project index.