Today, due to a little glitch in scheduling, I'm announcing winners for two embroidery-related give-aways – Hazel Blomkamp's Crewel Intentions and a spot in Tanja Berlin's online class for blackwork, with a kit and all the necessities to take the class.
Some happy news – I'm going to choose two winners for Crewel Intentions, thanks to Barbara, a reader who had two new copies of the book and only needs one. She generously sent it along, so that I could pass it on to another stitcher. So I'll be randomly drawing two names for that book. Thanks, Barbara!
This is a close-up on one section of the project "Late Harvest" from Crewel Intentions. I'll be working through Late Harvest this year, as time allows, as my Pure Pleasure Project for the year – just a fun project that I can meander through when I have time and the mood strikes.
So, first up, the two winners of Crewel Intentions! I asked the question, What appeals to you most about the projects in Hazel's books? So here are the two winners (drawn randomly, as usual) and their answers:
The first is Cheryl Dale:
Wow! I love crewel work but Jacobean designs are the best….and Hazel's designs in Crewel Intentions are full of life and wonderful complexity. Since I do early American living history, I can see using these patterns for a lot of applications – not to mention encouraging new comers to living history to include crewel work as part of their presentation. This is one of those books that gets everyone excited – new stitchers AND experienced embroiders. I can't wait to begin…..
The second is The Green Heron:
The variety of stitches and, to me, their innovative application most appeals to me. I stitched crewel cushions from kits for my mother and later crewel-type projects with floss. Learning new stitches is always a joy.
Thanks for the opportunity to win an outstanding book.
Online Blackwork Class
And now, we move on to the Blackwork Butterfly class by Tanja Berlin…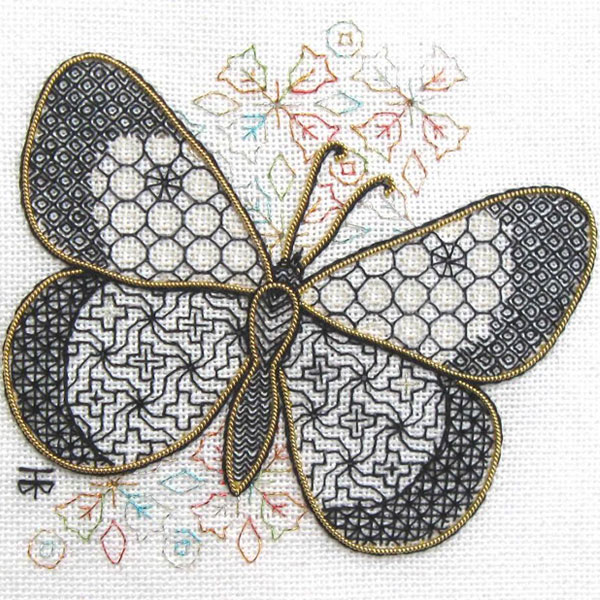 The question on that one was What's your favorite type of needlework?.
The winner of Blackwork Class, drawn randomly as well, is Suztats:
Mary, right now my favourite type of embroidery is free-form surface embroidery, although as I learn more, that could change. I tried Blackwork once and learned a little, but winning this class could teach me a lot more. Thanks for the chance.
If you didn't win, but you still you want to pursue the opportunity to take Tanja's blackwork class online, you can find all the information for her Introductory Blackwork Class here.
Contact Me!
The three winners above need to drop me a line with mailing information, so I can send the books out to you! The blackwork class goodies will come straight from Tanja.
Thank You!
I really, really tried to respond to all the emails and the comments that came in from yesterday's Who are You? article!
First thing in the morning, I told myself, I'm going to respond to Every Single One of These.
And I set out, responding to comments on the blog and a to a list of 48 emails that had come in before 8:00. Every time I sent out an email reply, a few more landed in the inbox. But I was determined! Yes, I was going to respond to every, single one of them!
By lunch time, I had whittled the list down to 65 emails remaining! I was feeling pretty good!
By the time I finished lunch, there were 142 emails that needed response.
Throughout the afternoon, I kept pecking away when I had a chance, but the list is still there and quite a bit longer this morning (271 when I woke up). Soooooooo, please don't think I'm rude if you haven't had a reply!
Your emails and your comments on yesterday's post were all very kind, very encouraging, and a lot of fun! If, by chance, you don't get a reply, well….there's a pretty good reason. I'll just refer you to yesterday's blog post for it.
I am reading them, enjoying them, and replying as I can.
I just wanted to say thanks!