Earlier this week, I received an email from a reader currently involved in a needlework retreat. (Hi, folks! I hope you're all enjoying the retreat!)
It was one of those emails that made me chortle on the one hand, and on the other hand, it made…not chortle.
In her email (the subject of which was Who is Mary?), my friendly correspondent said:
Someone said Mary Corbett (sic) is not a real person but the articles are a collaboration of several writers.
Admittedly, I felt a little bit like Alice in Wonderland, meeting the caterpillar. Whooooo are you?
Everything You Don't Really Want to Know…
Needless to say, I was taken aback. I thought, Wow. All this work… I was initially somewhat deflated. Somewhat chagrined, even.
But then I thought, It's a legitimate question.
After all, there are many blogs today that are collaborative blogs. In fact, most blogs that put out consistent content and a lot of it have several people working behind the scenes. If the person who made the statement doesn't really read Needle 'n Thread often, or doesn't know me through correspondence, or has never met me, then it's really very understandable.
Besides, I don't talk much about personal stuff here on Needle 'n Thread – I'll explain why, below.
So, to set the record straight, today, I'm going to tell you a about me and about Needle 'n Thread.
Of course, if you're only here for embroidery information and tutorials, feel free to take a break from Needle 'n Thread, because… well… I'm about to bore you to tears!
The Personal Part
I come from a large, close-knit family, though somewhat spread around the US, and I'm fortunate to be able to say that we all like each other pretty well. I'm the youngest of seven girls, and we have a younger brother. Lucky guy!
My dad is originally from Kansas. My mom is from Indiana, though her family moved to Florida when she was a toddler, and that's where she and my dad met and married (after she got out of the toddler stage).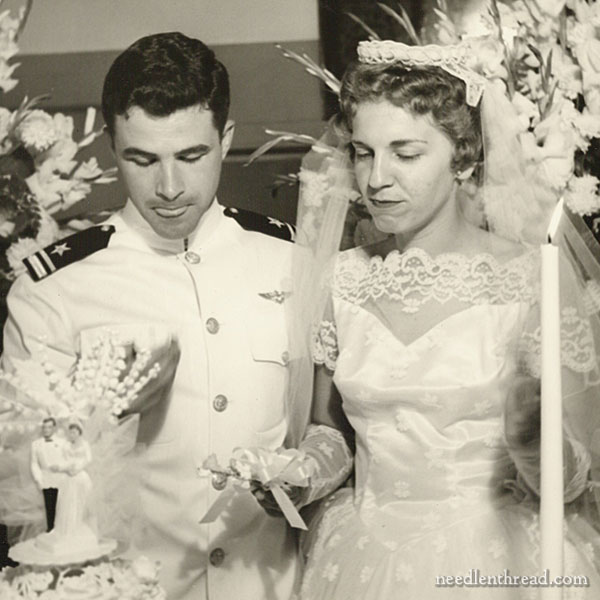 My mom and dad on their wedding day
They've been married for 58 years.
So I have parents, like every person in the world does, and I have sisters and a brother, and they have kids and their kids have kids. I'm not married, and I don't have kids. But I have an abundance of wonderful, adorably-darling nieces, nephews, great-nieces, and great-nephews.
Now, by abundance, I exaggerate not. If you count all the people in my family from my parents down, there are… wait for it… one hundred and eleven of us. When we do stuff together as a family – whether it's all of us or just a "small" portion – it's always a Big Event.
The Really Personal Part
Now, one thing I've heard occasionally from readers (or from readers repeating things to me!) is that some people don't like the fact that I never share anything personal on my website, so you don't really get a chance to know me.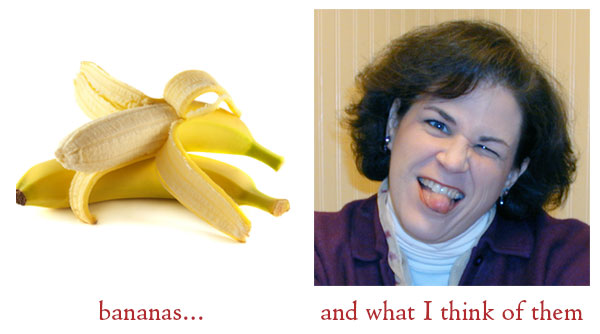 My relationship with bananas
I could tell you that I can't eat a raw banana right out of the peel without gagging. But really, do you need to know that? Do you even want to know that?
The reason I don't share personal stuff on Needle 'n Thread is pretty simple: this is an embroidery website, not a personal diary. People come here for information on embroidery, not information on my life. If there's some kind of Big Life Event going on that would disrupt the normal flow of things on the website, I'll usually mention it within a post.
But it doesn't happen often. You won't find personal issues, rants, and the like on my website – people can get that kind of stuff anywhere in the world today. Just squizz about on Facebook for a while if you need a dose. My website is dedicated solely to embroidery. The rest – well, the world is full of it. It's nice to have a break!
The Stitching Part
If you've read my "about" page in the top right column here on Needle 'n Thread, you'll already know all this, but here it goes, anyway:
I've been stitching since I was a kid. I learned from my older sisters and my aunt, who were avid cross stitchers during the early 80's. I got into surface embroidery from there.
After I graduated from high school (we lived in Florida at the time), I came out here to Kansas for college.
When I was in my first years of college, I studied the history of art, and that took me into ecclesiastical embroidery, which took me into further experiments with goldwork and so forth.
I taught high school English while finishing up post-graduate work and eventually became a college professor in an EDU program, teaching future teachers how to teach. I taught professionally for eighteen years.
How Needle 'n Thread Began
During those teacher-summers-off (ha ha ha – they aren't really off – there's a lot of work to do in the summer!), I started hosting embroidery classes for children locally.
The expense of hosting those classes (which were free) was a little hefty on a teacher's salary while I was still paying off a massive student loan (ye gads).
In stepped my brother, who is an IT guy, with the suggestion that I start blogging about embroidery, and maybe, through blogging, I might be able supplement the cost of giving summer classes. Blogging professionally was just becoming A Thing online.
The idea of blogging – which I knew nothing about when I started – intrigued me. I saw blogging as an opportunity to extend the needlework classroom past summer vacation. Online video was just beginning to take off in popularity, and it seemed to me a great platform for teaching embroidery stitches.
I used a free Blogger template, set up the blog on Blogger, got myself a point and shoot camera that could take video (a whole two megapixel digital camera!), and started blogging.
So that's how Needle 'n Thread started.
I really didn't have any idea where I was going with the website, and no inkling that it would become popular. But, lo! to my surprise, it did. And over the years, it grew.

The old Needle 'n Thread – remember?
After several years on Blogger, I switched to WordPress and hired a professional design company (Imagemakers, Inc. out of Wamego, KS) to design the Needle 'n Thread website you see now.
Once that was up and running, Needle 'n Thread grew like a weed in a wet, sunny climate. I couldn't keep up with it anymore while teaching full time.
So, there I was, about 17 years a teacher, and I had to make a decision: teach academic subjects full time in a classroom, or teach about embroidery through blogging full time. There were pros and cons on both sides, as you can imagine. It isn't easy to give up guaranteed stability for the Great Unknown. I would have no other income backing me up. And no benefits. (Ye double gads!)
But I had put a lot into Needle 'n Thread, and we'd become quite a community here. I didn't want to give that up. I had this idea that Needle 'n Thread was important, at least in a small way, to a lot of people. And the notion of trying something different was appealing. An adventure, you know!
So, once I had a livable buffer in my bank account and absolutely no debt, I decided to take the plunge and test it for one year.
Needle 'n Thread, Today
And one year has lead into almost four now.
Needle 'n Thread as a business has had its ups and downs on the "stability" side of things, mainly because of my slowness in developing anything that generates income.
I'm still overcoming some big learning curves when it comes to technical obstacles, but I'm slowly getting there. I keep plugging away at it, anyway.
Meet my Blogging Team!
My team? Well, my team is made up of lots and lots and lots of people!
Me, plus some thousands of you, who are my best source of inspiration.
But on my end, there's just me. If you see an article on my website, it's because I not only wrote it, but I put it there all by myself. If you have sent me an email and I've written back, that was really me! If you see stitchery, photos, ebooks, designs, videos – it's because I stitched, wrote, edited, drew, compiled, photographed, videoed – and eventually, put it on Needle 'n Thread.
One disclaimer: when something urgent and major in a technical way goes wrong with the website – or I need to make a huge change – I hire the folks at Imagemakers to help me. They're very good at that!
There may come a time, business-wise, when it makes sense to hire someone else to help me out with the background stuff (the technical grunt work), but I can't see that happening any time soon, due to financial constraints. If it ever does happen, you can bet I'll be shouting it from the proverbial rooftops!
Supporting Needle 'n Thread
I've said it before, but it doesn't hurt to repeat it. If you like Needle 'n Thread, if you use my website and learn from it or are inspired by it, and if you want to support it, then there are two ways to do that: by buying my e-books and by supporting my advertisers.
Granted, the e-books are a little sparse right now. I'm currently taking a class in InDesign to help make production of printable work more efficient. This year, you'll see some new offerings popping up, like the Stitch Sampler Alphabet.
Eventually, you'll also see online classes again. But there's a lot of background work to do before I can approach them once more. I'll keep you abreast of those developments.
If you're looking for fine needlework supplies, take a look at the advertisers here on Needle 'n Thread! They've been specially selected and "vetted" – I've shopped with all of them myself, and they offer excellent goods and service.
So Now You Know!
So now you know what Needle 'n Thread is all about and that's pretty much me in a nutshell.
I love what I do, and I am really blessed to be able to do it. But I'm not a team of me's.
And you know what? I'm glad I'm not! Because then I wouldn't have gotten to know so many of you!