Working with a deep red embroidery thread on a white fabric background justifies a little concern over the washability of the threads. Will the color run, when the Hungarian redwork runner is washed? If it does run, that could be a bit upsetting, don't you think?
So I set about testing my stitch sample, to make sure that I could go forward with the embroidery, using the threads I selected with confidence.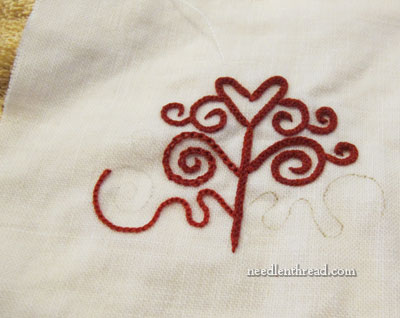 This is another reason why stitching a small sample for a project like this comes in handy. With the small sample, I can pretty much do whatever I want to it. The worst thing that could happen? I might ruin the sample. But that's not really a huge concern! After all, it's just a sample.
My test was pretty simple.
Skipping a cool water soak, I went straight to warm-almost-hot water. If color is going to run, it's more likely to do so in a warm water situation. I plunged the sample into the water and left it there for quite a while. (In fact, I forgot about it.)
When I came back, it looked much the same as ever. I agitated it a bit (quite a bit), and then left it there again. Next time I visited the soaking bowl, nothing had changed. I squeezed the piece up a bit, added more hot water, added a little bit of dish soap for the fun of it, squeezed it up some more, rinsed it, and after a couple hour's worth of complete water soakage, I finally removed the sample and rolled it up in a towel.
Then, I set up my ironing board.
Sometimes, threads that don't run when rinsed in a cool water wash will run in other circumstances, and one of those circumstances is the combination of heat and moisture – steam ironing or ironing while the fabric is damp.
I figured I'd try both. Why not?
Whenever I iron embroidery, I iron it from the back. The embroidery goes face down on my ironing board, which is covered with two layers of flannel and two layers of white flour sack towels, creating a soft padded area. This padding gives the embroidery something to sink into, so that it isn't squished during the ironing process. And the white flour sack towels are easy to clean and replace as needed. I'm kind of obsessive about a clean ironing surface.
So – I ironed.
I ironed while the sample was still wet.
Then, for kicks, I switched irons.
I have two irons. One is always kept dry – no water in it, ever – because I normally iron embroidered linens with a dry iron. Sometimes, especially if water is left in an iron accidentally, the steam burst can discolor a nice, white linen. So I have a separate iron for steaming, and I don't normally use it directly on my embroidery.
But this is a different case. After all, it's a sample, and I can do anything I want to with it!
So, I steamed it. I steamed it slowly, I steamed it in big bursts. Steam, steam, steam – the poor sample was ironed and steamed to death.
And the result is what you see in the photo above. And trust me, if the color were going to run, it would've done it by now!
Moral of the story: I'm good to go. I will use both the DMC perle cotton #8 and the coton a broder #25 (also known as "cutwork thread") in color 321.
Incidentally, this is the "dent" in my soft padding on the ironing board. No color there, either – but that's not why I'm showing it to you. I always love looking at the embroidery dent after I iron something like this. I thought you'd like to see it, too.
Another point I learned, which was quite helpful to know with certainty: the transfer method I'm going to use is perfect. I used it on the right side of the sample, where you can see the unstitched squiggled line quite clearly. It didn't run, either. And it's a fine enough line that it can be covered easily with the embroidery, but it's a dark enough line that it can be seen easily and it won't rub off. More on that later!
Monday, I'll show you some stitching with this silk gimp we talked about a while ago.
Have a terrific weekend!
If you'd like to follow along with this Hungarian Redwork Runner project, you can find all articles relating to it, along with patterns and so forth, in the Hungarian Redwork Runner project index.