Some embroidery projects – even relatively simple ones – have a tendency to develop really slowly.
This particular project is no exception. Although I'm happy that I'm making progress on it, there are times when I look at it and think, "Gee. Shouldn't I be a bit farther along?"
But that's the nature of hand embroidery, and really, of anything made by hand. It is generally slow. And isn't this slowness, in a sense, one of the reasons we like hand embroidery? It is for me! I like meandering along on something and seeing it unfold as I go – it's like watching a flower grow, or watching snow build up during a soft snowfall. It's slow, but it's nice.
If you were to trace every single line of embroidery in this piece so far, you would undoubtedly notice that they are not all "perfect." The spacing is not exact between every element, the curls are not perfect mirrors of each other.
In some types of embroidery, precision is a Very Big Deal to me, but in a folky embroidery piece like this, I don't go for absolute precision. In fact, I go a little bit for the opposite. In the layout of the design on the fabric – yes, precision is very important because the layout of the design on the fabric will definitely affect the finishing of the piece. But in the design itself, I'm not as concerned about precision. I don't want this to look too mechanical, or too exact.
Golly – doesn't that make for an easy project?!?! I can make mistakes and claim they were intended!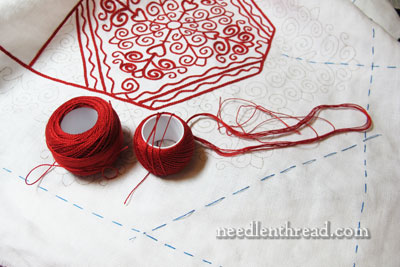 The supplies for this project are pretty minimal, but I already know I didn't buy enough thread. You can see one small ball of perle cotton #8 there, almost gone, and the remainder of one skein of coton a broder #25. I bought 5 skeins of coton a broder #25, and four balls of perle cotton. I think the four balls of perle cotton will hold out, but I suspect I will need more than 5 skeins of the other – I'm guessing I'll need to order three more skeins before all is said and done. Could be wrong – I'll wait until I reach the half-way point to see where I stand on supplies.
The perle cotton is easy enough to come by – I can pick that up at a shop. But the coton a broder has to be ordered online, which means paying extra for shipping. Most online needlework stores are very good, though, about adjusting shipping for small thread purchases. For example, when I ordered the five skeins of coton a broder, the shipping was initially $6, but the shop owner contacted me to let me know that she adjusted the shipping rate to $1.25, the cost of mailing it in a letter sized envelope.
Packing this project up for easy transport is a breeze. I'm using a mesh zipper project bag, and all I have to tote around is the linen, the threads, a small pair of scissors (in a sheath – very important when scissors are loose in a project bag!), and a little needlebook with two of each size needle (just in case I lose one).
Deep down in my Innermost Me, I knew this piece wouldn't be finished before Christmas. But there was a little part of me that was hoping that I might be surprised, and that the project would work up really fast. Well, so much for that!
Still – it's a great project for snatch-n-go embroidery, for quiet evenings, for 15 minutes here or there. I'm enjoying it.
I hope you're enjoying whatever projects you're working on these days, too!
If you'd like to follow along with this project from start to finish, feel free to visit the Hungarian Redwork Runner project index, where you'll find all the articles related to this project listed chronologically. They include all the information you'll need if you want to work up this project or something similar.