Normally – practically always, as a matter of fact – the embroidery projects I work on are mounted on an embroidery frame or in an embroidery hoop. For some types of embroidery, it's essential to use a hoop or frame.
Goldwork and silk embroidery (like the Medallion project, this goldwork pomegranate project, this goldwork and silk Agnus Dei project, the little Tudor rose, and so forth) absolutely require that the work is mounted on a taut frame. Crewel embroidery (i.e. this crewel rooster) also benefits from mounting in a frame or hoop.
There are other types of embroidery, though, that don't necessarily need to be worked in a hoop or frame. The skilled embroiderers of Madeira, for example, worked their delicate and beautiful whitework motifs without a hoop, in their hands, with their worked wrapped around a finger to gauge tension.
And certainly, there are many situations where embroidered linens and the like – adorned with typical surface embroidery stitches – can be easily held and worked in the hand, without the use of a hoop.
Today, let's chat ourselves up a bit about working in hand, without a hoop.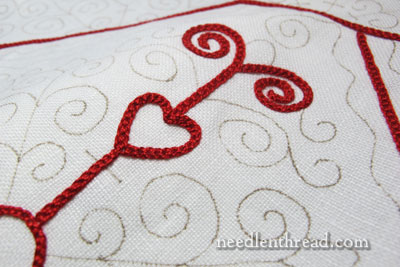 On the Hungarian Redwork Runner project, I decided not to use a hoop. A few reasons steered me in that direction.
Why I Chose to Embroider Without a Hoop
First, the Hungarian Braided Chain Stitch is the dominant stitch in this project, and, worked with a heavier thread (perle cotton #8 in this case), it is a chunky stitch. Even with a hoop that's been bound and padded, I knew it would be difficult, once the embroidery was filling in, to pop the hoop easily on and off and to avoid flattening the chunky stitch.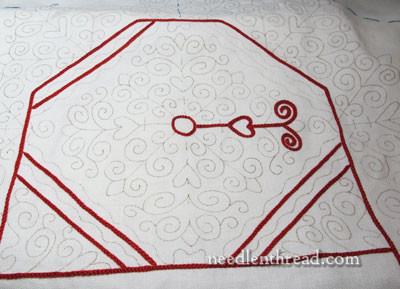 Moving Your Hoop Around on Your Embroidery
Now, don't get me wrong – when using a hoop in regular surface embroidery, it is perfectly normal and permissible to move the hoop around over previously worked embroidery. Take, for example, a kitchen towel (like a white cotton flour sack towel) that you're covering with hand embroidery. You can move your hoop from one section of the embroidery to another, even closing the hoop over previous stitches. The stitches may initially flatten a bit, but once you've finished the project, rinsed it, and dried it by whatever means you use, the stitches will rejuvenate themselves and look fine. Just remember to move your hoop and adjust it with care when placing it over other stitched areas. A bound embroidery hoop is always the best option in such circumstances. The binding gives the stitches at least a little something to sink into, anyway.
So Why Not Use a Scroll-Type Frame?
There are good frames out there that would counteract this whole hoop-moving question. For example, the Millenium Frame would be a good frame for this type of project. The project could be easily rolled around the rollers, exposing only the parts to be stitched, and the piece could be kept taut, and I'd have two hands to work with.
Two points against the Millenium frame, on my part. The first is that my largest rollers for the Millenium frame are Very Large (meaning I'd have to sit at trestles to use it), and it has a project mounted on it already, anyway. My other rollers for the Millenium frame are not wide enough to accommodate this project. I'd need a size in between, and I don't have one! The second point is my second reason for working in hand, anyway…
The Experience of Different Approaches
Second, I've been wanting to work a whole project in hand for quite a while, because it's not something I normally do. But I want to be able to tell myself I can do it – or have done it. It's a question of broadening the old Experience Bucket, if you know what I mean.
There was, once upon a time, an elderly lady living here in my town with whom I'd talk about embroidery when I was in college. She would really encourage me to pursue my interests in needlework all the time. Every time I ran into her, she would push me again in some needlework direction. She herself worked beautiful whitework embroidery on linen, and she never used a hoop or frame. She said she never learned to use one – she wished she had, but it was too difficult for her now to learn a different way.
It's like using a thimble or not using a thimble. Or driving an automatic and never a standard car. If you get used to one way and never try the other, eventually it becomes difficult to learn another way.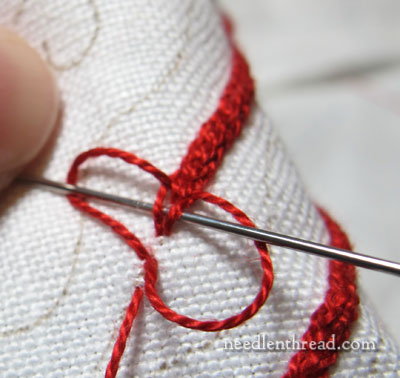 What I'm finding about working in hand is interesting. It definitely takes a while to get used to it, if you're used to working in a hoop or on a frame.
Fabric and Stitch Tension
One of the greatest advantages of working on a frame (besides the tautness of the fabric) is the fact that you have two hands free to work with (if you're using some sort of stand, which I do).
When you're working in hand, that isn't the case. But you quickly learn how to make use of the hand holding the work – you find ways to stretch your thumb, for example, and hold onto the needle while you're dominant hand does something else, like tightening up the working thread.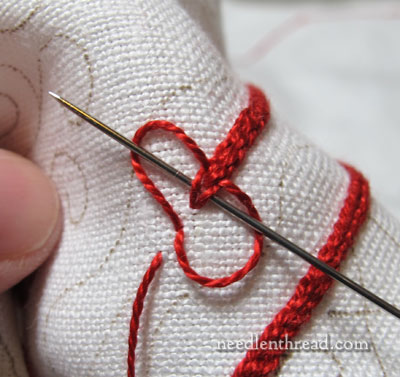 You also discover ways of assuring proper tension. When you're working in hand, you really have to be extra careful of the whole tension question. But after a while, you definitely get a better feel for tension, because your fingers are in closer contact with the fabric and the embroidery thread. You have a more tactile impression of what's going on with the thread and the fabric as you take a stitch.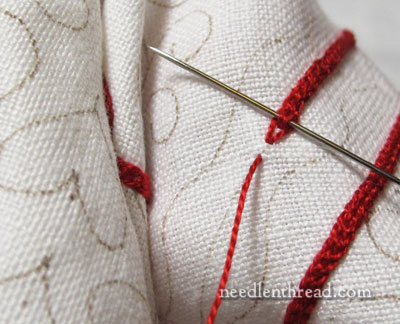 And wow – the fabric really gets bunched up and wrinkled when you work in hand. In a project this large, quite a bit of the fabric is bundled in the other hand.
Holding the Fabric – Some Concerns
This may legitimately lead to a concern for the cleanliness of the project. After all, I've got my grimy paws all over the thing, and when I'm working in a frame or hoop, I don't generally touch the fabric much. Besides washing my hands regularly (always before stitching), there's the fact that the piece will be cleaned and blocked at the end. This is a piece made for laundering. It can be washed without a problem.
Another thing I noticed when I first started the stitching was that my hands got sore. I am not used to holding the fabric this way. It seems to put a whole different group of muscles to work! The soreness has worn off pretty much, now – it just took a little bit of getting used to.
Your Views?
So, what about you? Do you ever work without a hoop? (There are some stitchers, I know, who never, ever use a hoop or frame.) Do you always use a hoop? What are your thoughts or concerns about using or not using one? Any tidbits of advice or information you'd like to share with others on the subject? Or any questions, comments or suggestions about stitching in hand vs. stitching in a hoop? Feel free to have your say below!