Today, I have the pleasure of announcing the two winners (drawn randomly) of Blissful Beginnings: Embroidered Blankets to Cherish, a beautiful new book by Country Bumpkin featuring a collection of gorgeous hand embroidered blankets and matching accent pieces.
It's a lovely, lovely book. And the blankets – ahhhh! They're works of art! And they make me want to snuggle. (There aren't too many works of art you can say that about, are there?)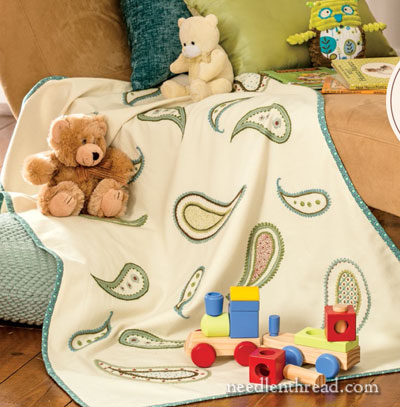 Here are the two lucky gals who will receive a copy of Blissful Beginnings in their mailboxes:
Susan Sleeper, who commented:
I liked the detailed diagram of the stitches. I also loved the paisley blanket because if you made a child that blanket in a somewhat good size, they could use it longer because it does not look childish. I have two grandsons and I would love to have that book to make them something that they could remember me by. I hope like Bj Sanclemente that I am lucky this time and win the book.
Linda Frasier, who commented:
WOW! I would really love to have this book! My 6th grandchild is coming in January and my 1st great-grandchild won't be far behind. I love these blankets. My entry is screaming, "PICK ME! PICK ME!" Can you hear it??
Please drop me a line with your mailing address, and I'll get those on their way to you as soon as possible!
Coming Up on Needle 'n Thread
Later this week, I'll give you a peek at my "secret project" and tell you more about it. As it comes to a finish, I'm getting more excited about it. Isn't that always the case when a plan comes together? I also found an antique frame with domed glass in it, perfect for the vintage look of the design. Oh, and then there's something about redwork in relation to it, too.
And speaking of antiques, I've acquired one recently that involves Berlin wool work! It's interesting – it was just a lucky find! And I didn't even get it for the needlework. I got it for what's around the needlework.
We'll look up close and personal at some darling little kits. Oh. My. Goodness.
And… you know… whatever other tidbits that might surface between now and later!
Enjoy your day!