I'll share a secret with you. I love embroidery thread.
You already knew that, didn't you?
But there's embroidery thread, and there's Embroidery Thread. When it comes to cotton Embroidery Thread, I have two Favorites: floche and coton a broder.
Coton a broder is often called "cutwork thread," and in white, it comes in various sizes suitable for different types of whitework and cutwork.
But if you want many colors of coton a broder, size 25 is the size to look for. Coton a broder size 25 is a marvelous thread for monogramming. And it works beautifully in heirloom sewing applications (like smocking). It's a nice thread for all kinds of surface embroidery applications. It comes in a total of 182 colors.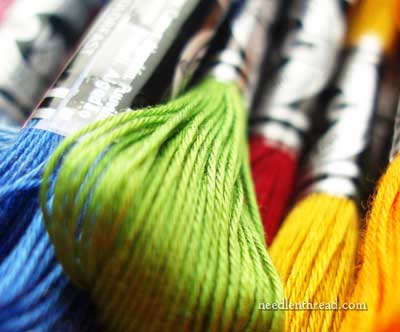 Unlike the more familiar stranded cotton floss by DMC that most of us know and love, coton a broder is a non-divisible thread, about as thick as two or three strands of DMC floss. It is softly twisted and mercerized, so it has a nice sheen.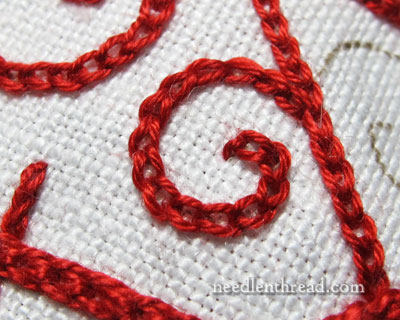 I've mentioned coton a broder lately – I'm using it extensively in this Hungarian Redwork Runner project, for the finer chain stitched lines.
And I've also written quite a bit about coton a broder 25, especially when I finally invested in my own collection of all the colors, so that I could use them for designing some upcoming projects.
Coton a Broder Give-Away!
Thanks to Joady at Hedgehog Handworks – who has recently added the whole line of coton a broder 25 to her shop – today, I'm giving away the whole range of coton a broder 25. That's one skein of every color! 182 colors!
Just think of all the stitchy fun this could lead to!
Just think of all the monograms you could embroider!
Just think of running your fingers through all those delectable colors!
Yep. When it comes to whole collections of embroidery thread, the Silas Marner in me comes out.
Give-Away Guidelines
This Give-Away is now closed. Thanks for your participation!
If you'd like to enter today's give-away, please follow these guidelines:
1. Leave a comment below, on this article, on Needle 'n Thread (the website). This link right here will take you straight to the place to leave your comment. Comments sent via e-mail or left on other articles on the website are not eligible. Sorry to be Scroogey about this point, but it's the only way I can keep up with the comments.
2. In your comment, answer the following:
What's your Embroidery Daydream? (Is it to have a dedicated workspace? Is it to have complete collections of your favorite threads? Is it to have endless supply of linen? Is it to go on a needlework vacation or tour? To have a specific period of time just to devote to stitching – while someone else does the housework and cooks for you? To attend a specific workshop or seminar? Is it to own a particular tool?…)
3. In your comment, please, please leave a recognizable name that makes your name at least somewhat unique. (Example: If your name is Mary, keep in mind there are lots of people with that name, so you might qualify your name with a location or a nick name. Like… Scary Mary, or Mary in Schenectady…)
4. Unless you want your inbox flooded with e-mail from Needle 'n Thread, do not tick the little box below the comment form, asking for follow-up e-mail. (Trust me on this one!)
5. Leave your comment before 5:00 am CST (Kansas, USA) on Monday, December 31st. I'll announce the winner that day. Be sure to check back – the last day of the year might just be your lucky day!
Did you know that you can subscribe to Needle 'n Thread and receive the daily blog post right in your e-mail inbox? It's a great way to be assured you never miss an article! You can save the articles you want to save in your e-mail, too, for easy reference. The subscription form is on the top of the right column – just enter your e-mail address and then check your e-mail to confirm your subscription. It's easy!
The give-away is open to anyone, anywhere. So go forward, good people, and leave your comment today!
The End.