It looks like lots and lots of us love the new Trish Burr miniature embroidery kits! The response to last week's give-away was really wonderful – thank you so much for participating!
I really enjoyed reading all your answers as they came in. The responses to the "embroidery environment" question illustrate quite well how different we are, but at the same time, how similar – we all love to stitch, no matter our environment!
Like many of you, my background environment when I'm embroidering depends on what I'm doing with my embroidery. My favorite place to stitch is not very "romantic," I'm afraid! I love your descriptions of stitching in front of the fireplace, or in the sunroom, or on the lake, surrounded by friends, surrounded by family, on the porch with the twittering birds, with your pets …. *sigh*…. it all sounds so lovely!
I'm afraid for me, it's my very utilitarian workroom that I prefer, because I can generally stitch there with very little distraction. I don't even have a phone out there! If I'm trying to work something out that takes concentration, I prefer silence or very quiet music, turned down low. I'm more of a classical music and folk music kind of person.
This time of year, though – it's Christmas music! I am a Christmas music nut. I love Christmas "classics" (Nat King Cole, Bing Crosby, Perry Como, even Mitch Miller – bring 'em all on!), Christmas choral music (Cambridge Singers are my favorite), orchestral Christmas stuff (ASMF, Boston Pops…), and Christmas instrumental music (for example, Judith Lynn Stillman and the like).
But… my Absolute Favorite All-Around Background when I'm not in concentration mode is a really good audio book. Give me a well-read audio book and some embroidery, and a quiet spot, and I'm perfectly content. Classics are game – from full-cast Shakespeare productions, to unabridged Dickens to Jane Austen to the Brontes, Elizabeth Gaskell, Evelyn Waugh. I like PG Wodehouse, I love Peter Mayle's books, Willa Cather – the list could go on and on. And I'm a sucker for good mystery writers – Agatha Christie, Ngaio Marsh, Dorothy Sayers, Arthur Upfield, Gladys Mitchell. Yep. I should own stock in Audible.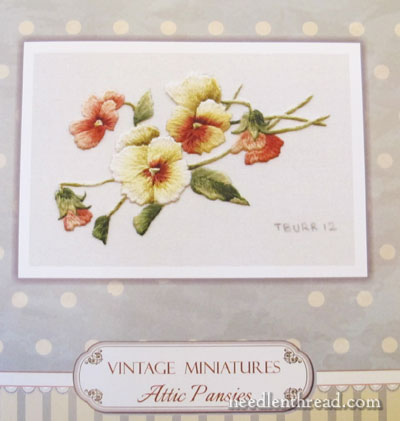 Trish Burr Kit Winners
But enough about me – let's talk about you! Time to get on to the winners!
There are two winners:
Cynthia Green: I like having the TV on in the background, but only if it is reruns. If it's something that I need to pay attention to, it's too hard to stitch at the same time. The second alternative is music. Audio books are cumbersome because I have to stop them frequently when I need to read directions or have to really concentrate on what I'm doing.
and
Cris Tilliss: My absolute favorite place to stitch is with a group of friends, where we can all work on a piece and laugh and giggle at the same time. I always find it stimulating to receive the comments from those around me and vice versa. Otherwise, I prefer to stitch at home in my sewing room with a little ambient music or TV. The companionship from other stitchers is like none other, and there is always such a bond that forms over the years.
Congrats to both of you! Please contact me with your mailing address and I'll get these off to you.
If you didn't win and you'd like one of the kits, keep an eye on Trish's Etsy shop after the new year. She's closed down now for the holidays, but she'll return in January.
Upcoming Give-Aways You Won't Want to Miss!
Normally, I don't "officially" announce give-aways ahead of time, but there are a few coming up here on Needle 'n Thread in the next several weeks that you won't want to miss. There's one more before Christmas – some great little needlework project / tool bags – and then after Christmas, a whole complete line of an embroidery thread that I love (one of every color!). And then? Well, I've got a few more of Trish's kits up my sleeve for you.
Up tomorrow, you can watch me tear out some stitches. That's always fun…