Figure embroidery has been on my mind a lot lately. It's actually one of my goals for this year, to work a piece of figure embroidery here on Needle 'n Thread.
But you know those New Year's resolutions… I figure if I resolve it one year, I've got at least five to make it happen. Or at least, that's how it seems to work out!
In any case, I've been doing some reading lately, and the topic is sniggling about in my head, so I want to talk about it. Telling you all about it always helps me to clarify things.
Figure embroidery (pictorial embroidery involving people) is found frequently in ecclesiastical needlework, though it isn't limited to ecclesiastical needlework. It is popular as well in stumpwork, in the embroideries that embellished 17th century caskets and the like, in tapestry-type embroideries (like the Bayeux Tapestry).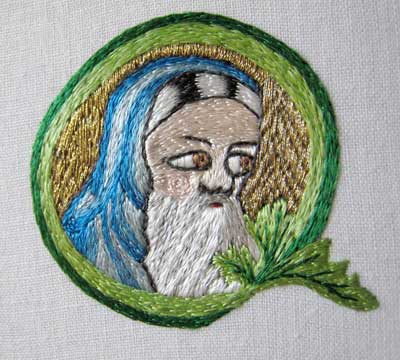 In the medieval embroidery style known as Opus Anglicanum (you can read about and see this Opus Anglicanum sample develop here), figure embroidery takes on a distinctive look. Split stitch is the dominant stitch and those large eyes dominate the face. The faces are filled in split stitch, worked in swirls on the cheeks and outwards.
In this more modern figure embroidery, split stitch is still used, but in the form of long and short stitch.
I'm always drawn to the eyes first, when I look at any piece of figure embroidery that involves an embroidered face.
And there are other types of figure embroidery, too – like the figure found on the hood of this cope (the Mantle of the Virgin – 1500's), which is worked entirely in a goldwork technique called Or Nué, where colored silk threads couch down lines of gold thread, in varying intervals to create an intricately "painted" embroidery.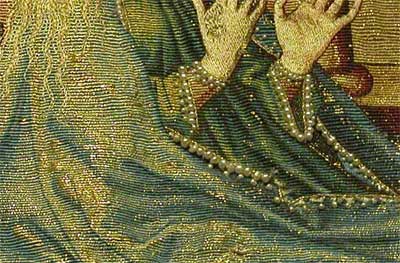 In this close-up photo, you can see the pattern of the horizontal lines of gold thread. Now, that is some amazing figure embroidery!
Here's a more modern approach to figure embroidery, from the exquisite Litany of Loreto embroideries of the Royal School of Needlework.
You can see more detail on these embroideries if you check out the following PDF's:
Litany of Loreto Embroideries – RSN (PDF)
Embroidery for Places of Worship – RSN (PDF) – this one has a wonderful close-up!
The details I really love in the Loreto embroideries are the decor on the robes, the exquisite eyes (not fully embroidered – they are mostly outlined, it seems), the beautiful hair, and lacy overlays on many of the figures (like the one on the lower right in the photo above), and the use of browns, blacks, and light golden colors, along with gold thread, to create the whole scene. I think they're exquisite, even though I find the subjects somewhat overly sentimentalized, typical of pre-Raphaelite art.
The Litany of Loreto embroideries demonstrate that beautiful embroidered figures can be worked without full embroidery on the faces, hands, and other areas. The overall effect is much lighter and more delicate than some of the heavier, completely embroidered figures.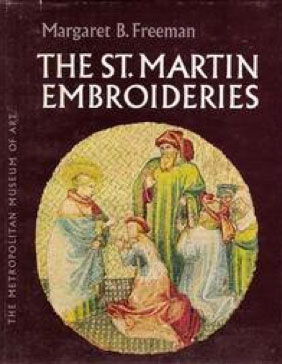 The book I'm reading right now is The St. Martin Embroideries by Margaret Freeman. It's interesting and informative. It was published by the Metropolitan Museum of Art in 1968, and it studies a collection of Flemish and Franco-Flemish embroideries from the first half of the 15th century. It's good reading, and the book is loaded with photos, though all but two are black and white. They're still good photos!
Before I ever sail forward on a specific embroidery tack, I like to do a lot of reading first. To know the history behind any given type of embroidery helps, I think, to have a more "complete" experience in the creation of a new piece. So at this point, I'm reading a lot, researching, tracking down books and the like.
If I come up with a good book list for this particular topic, I'll definitely share it with you, if you have an interest in figure embroidery, too. If you happen to know of any good books on the topic, I'd love to hear about them.
So what about you? Does pictorial embroidery involving people – whether religious or secular – interest you, too? Do you have any good resources on the subject that you'd like to share? Have you done any similar work that you'd like to show off? Feel free to leave a comment below!