Happy Easter, everyone!
I wanted to show you a nice display of my embroidered eggs this morning, but in fact, I didn't finish them after all. Life is sometimes like that!
Instead, I'll share with you (again) this beautiful example of Pysanky (Ukrainian dyed Easter eggs), with an embroidered Ukrainian cloth in cross stitch, along with a pattern for my version of the cloth.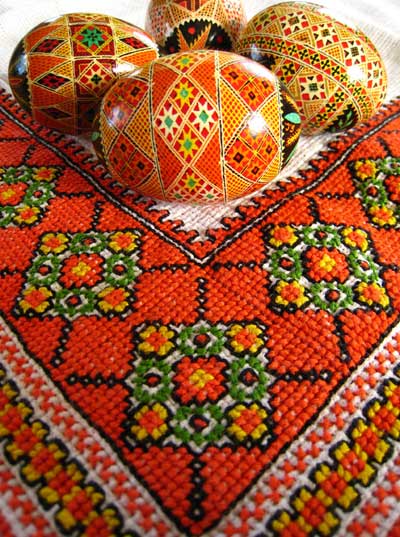 I worked up my own chart version for a square, fully bordered version of this cloth, with some minor adjustments. You can find it here:
Square Ukrainian Cloth border – counted cross stitch (PDF)
It prints a four page chart. How large it will work up depends on the thread count of your linen, and whether you stitch over one or two threads. You can figure out the repeat pattern of the center area, too, and enlarge or elongate the design in any way you wish. Or, you could just work a corner, and chop off the pattern. Or you can play with all kinds of repeats on the design and work up a different look to it altogether.
Finally, I'll leave you with a glimpse of the egg embroidery that stopped me in my tracks. That purple accordion thing is not exactly what I had in mind! I have to take that out before I move forward again.
Sometimes, a little mistake can become a huge obstacle to moving forward, can't it?
Well, I ran out of time. Before I knew it, this morning had come, and the Purple Accordion Slug was still clinging to the side of the egg.
But that's not going to keep me from enjoying the day! I'm spending Easter Sunday with my sister's family, where I will surreptitiously dispense mountains of jelly beans to the little kids before heading home.
Happy Easter!
Looking for inspiration & information on hand embroidery?
There are all kinds of reasons to sign up for the Needle 'n Thread daily newsletter! Check them out and sign up today!