It may not seem to make sense for me to "review" a book here on Needle 'n Thread that 1. isn't available for the public; and 2. contains information you can find right here on Needle 'n Thread. But I just have to share with you my joy and excitement, and my flabbergasted wonderment and gratitude, over this book!
The book is called The Marian Medallion Project, and if you've been reading Needle 'n Thread for at least a year, you are probably really familiar with the project.
Last year, it was my one major project in the first half of the year, and I blogged it from beginning to end, with all the sordid little details, instructional points, tips, ideas, materials – you name it. You can find the project listed under the Marian Medallion Project Index, if you aren't familiar with it but are curious about it.
Well, Cindy, a reader here on Needle 'n Thread, was practicing using InDesign and enjoyed following the Medallion Project, so she used the blog posts to compile a completely thorough book on the project, for her own personal use. She kindly sent me a copy – a complete and utter surprise!
Now, before you are shocked or horrified that someone "published" a book essentially written by me without my knowledge, please understand that the content on Needle 'n Thread is for your personal use, and Cindy compiled it into an easily accessible form for herself (for personal use) and printed it using a print-on-demand service, to be able to follow the project away from the computer. It would be like your printing my articles on a particular project or series, so that you can refer to them while you work on the same project, away from the computer. And that's fine! As long as you're not compiling articles and selling them or republishing them on another website, there's nothing wrong with that.
Cindy did a magnificent job making this whole aggregate on the Medallion project! The book (which is just short of 300 pages) is divided into three sections: The Rose, The Medallion, and Techniques. It begins with a thorough table of contents.
And by thorough, I mean thorough! There's an appendix and an index as well.
The introduction was so beautifully written and said such nice things about me that I was trying to figure out who Cindy was talking about! It was humbling, to say the least. It does give the backstory of the Medallion Project as well, so I went ahead and read the whole thing, and I found it really interesting and very satisfying to see another person's perspective on the project.
You might not know this, but I often write and prepare and photograph and work through things and post them on Needle 'n Thread, having no real idea if people will actually be interested. Often, it's a "fingers-crossed-wait-and-see" game. Am I wasting my time? Am I wasting everyone else's time? Is this something people want to know about? I don't always know! Bloggers like me rely on reader interaction and comments, questions and suggestions, to let us know whether or not the subject has struck a cord, whether there is real interest in it (and therefore, whether it's worth ever writing about again!).
With the Medallion project, there was quite a bit of interaction, so it was pleasant to blog about it because I knew people had some interest. Of course, there were people who didn't like the project – I got e-mails saying things like, "Please stop writing about this project… This is beyond my capabilities… I'm not interested in religious embroidery… I don't like goldwork… This project is boring…" and so forth. But because those were not as common as the enthusiastic response (though the negative ones do knock one down a bit!), I kept plugging ahead with it.
To read a sincere recap of the project and what it meant to one individual is quite a boost, to say the least. It made me appreciate the project and realize its value, in a way that I hadn't before. Thank you, Cindy!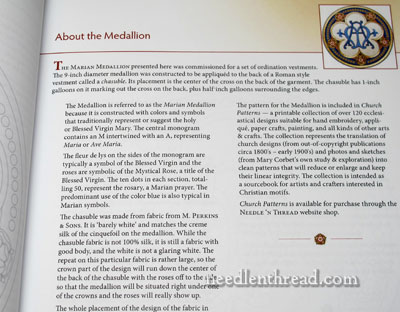 There's also a section about the Medallion itself and its symbolism, as well as its intended use, compiled from the content on the website, replies in comments, and so forth.
And then there's the body of the book. The body of the book is made up of every blog post on the project, and every related article on the website as well. So, any articles that I linked to for further information are also included in the book! Each article is followed by a little box that gives the original date of publication on the website.
"Further information" blurbs are included at the end of each article as well, along with the page numbers in the book where you can find the information. Everything is thoroughly cross referenced, so finding my way back through the project and following my own line of thought at the time I was working on it is incredibly easy. Unbelievable amount of work in this type of thorough cross referencing!
Additional comments are included at the end of each article, too. These are questions and answers that took place in the comment section of the site on each article, and the ones that contain helpful, clarifying information are printed as well. And, even on the comments, there are cross references to other chapters in the book or articles on the website!
And the whole book is printed in color! The color scheme matches Needle 'n Thread. And there are so many little, thoughtful details in the layout – from ending chapters with the little Tudor rose, to a beginning image at the top of each chapter page that has to do with the topic covered in the chapter. Cindy took a lot of care in making the book visually pleasing!
There's some white space throughout the book, too, and because it's a project book, I'm so glad of that. I invariably take notes in project books, but they rarely have any white space in them, so I take notes in the margins. When I use this book as a reference on future projects – and I will! It'll be so easy to look things up! – I'll be able to write notes, reminders, and so forth within the book.
The Techniques section of the book contains every indirect blog post that I linked to within the Medallion Project articles, wherever I referred people to earlier posts or tutorials on Needle 'n Thread for instruction or information.
This brought home some points that I haven't really dwelt on before:
1. There is a lot of information on Needle 'n Thread. Believe it or not, I don't always realize that. And it seems really weird to think that I wrote it all.
2. Wow. I talk too much!
The book ends with an utterly thorough index, with every technical term, product, stitch, etc. listed here, with page numbers. This fascinated me. Whatever did I say about Eterna stranded silk? Or flat silk, keeping vertical? Or slip knots?
And finally, Cindy included the book in PDF form on a DVD, beautifully labeled. The PDF is loaded with active links – every item in the table of contents, every cross reference in the book, every page number in the index, even direct links to the website for tutorials, articles, etc. – these are all clickable and take me right to the spot. And it works on my iPad, too!
Wow. This was pretty humbling, but pretty thrilling at the same time. The Medallion Project was definitely a big project, and I loved doing it and blogging about it. But formatting and laying out this book – that was a big project, too! And I can't believe it when I look at it, that someone thought enough of the Medallion Project to take this kind of time to put together this book.
Words just can't say it, but thank you so much, Cindy, and thank you, each of you, who takes an interest in Needle 'n Thread. When it comes down to it, you're the raison d'être behind Needle 'n Thread – and so… hm. I'm speechless. Just thank you.
The Marian Medallion Project E-Book is Now Available!
A little update, March 29: The Marian Medallion E-Book is now available in the Needle 'n Thread Shop! You can find it, along with a thorough description, here!