Hand embroidered monograms! Ahhhh! I am twitterpated by them! They are my One Weakness… to quote Dorcas Lane.
This inordinate infatuation with embroidered monograms and decorative initials was the impetus behind a crazily obsessive era of collecting old embroidery pamphlets and magazines from the mid-1800's through the first half of the 1900's, before it became really popular to collect them.
In the last six years or so, it's become increasingly The Rage to collect vintage and antique patterns. The prices have gone up considerably on these old publications – when you can actually find them. So I don't really collect many anymore, unless a happy chance brings me into contact with a volume I'm really interested in that's affordable.
The old French magazines like La Broderie Blanche and Journal des Demoiselles, and the old Sajou pamphlets (especially those with line drawings rather than charts) are among my favorites. I have a good pile of them that I browse through occasionally for design ideas, alphabets, and general inspiration.
And sometimes, I stumble upon a little pattern that, with a little clean-up job, would be fun to share. Like this one!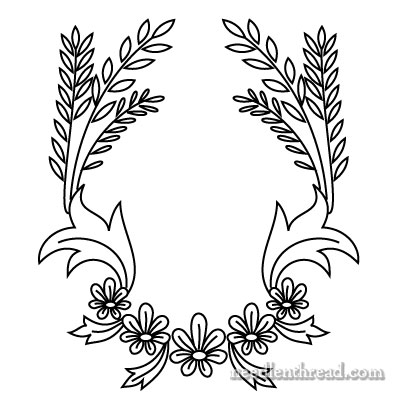 The art of monogramming often includes fancy frames that encircle an initial or two (or three… or four…). The frame above is a typical example. Right in the middle of it, you can plant a single, simple letter that will feel perfectly at home surrounded by festoons of flowers.
Designs like this are perfect for whitework on a semi-sheer background, like handkerchief linen. At the same time, they would work equally as well in color on a sturdier ground fabric – from the cotton kitchen towel to heavier linens used for cushions and the like.
Monogram Frame Pattern Printable
The pattern on the PDF below prints at about 4.5″ high if you choose "no scaling" in your printer options before you print. You can certainly enlarge it, or you can reduce it for smaller projects.
Monogram Frame Embroidery Pattern – PDF
Enjoy the pattern, and have a splendid weekend!
You can find heaps of free hand embroidery patterns here on Needle 'n Thread, including a few monogram alphabets, all on the Patterns page. If you're looking for something to stitch, feel free to browse!
Looking for inspiration & information on hand embroidery?
There are all kinds of reasons to sign up for the Needle 'n Thread daily newsletter! Check them out and sign up today!