When the Mission Rose project first started taking shape, I knew two things right off: 1. that it would involve very specific silk embroidery threads; and 2. that it would involve some goldwork threads, but not a lot.
The majority of the project will be worked with silk embroidery threads, specifically with Soie de Paris by Au Ver a Soie. I used this thread for the Tudor Rose in the Medallion Project, and I loved-loved-loved it.
While I was working out those five Tudor roses, I was already thinking to myself, "I would like to do a Whole Project with Just This Thread."
In the photo above, you can see the colors of silk I've pulled for the Mission Rose. I'm not certain I'll use all of them, but I have them on standby, just in case. It was pretty difficult to come up with a good range of greens, and I'm not too sure of the ones I've chosen. I also wanted a reddish brown in there, but we'll see what comes of the browns and reds selected.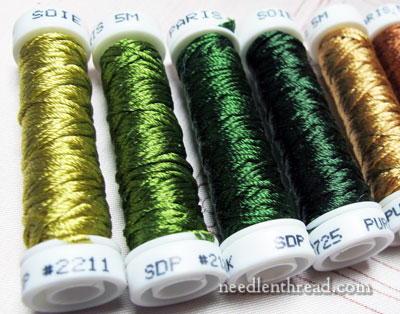 One difficulty with using Soie de Paris for a large embroidery project is that it does not come in a vast range of colors and shades.
Still, it has a pretty decent range (which I believe is still growing) for a smaller project. And the Mission Rose being somewhat smaller in scope than the Medallion Project, I was confident I could ferret out a good sampling of colors and shades in Soie de Paris.
With this project, I obviously don't intend to mimic the colors and shades of silks used in the original piece of embroidery that inspired the Mission Rose.
These are the color numbers of Soie de Paris, each grouping arranged from light to dark:
Greens: 2211, 2125, 2116, 3725
Reds: 4232 (ivory), 2641, 2914, 945, 4624, 4625
Browns: 3814, 4546, 4136
If you're looking for Soie de Paris, you can find it available through fine needlework shops. If you have a local needlework shop that carries fine embroidery supplies (oh, I wish!), you might check with them first to see if they carry the Au Ver a Soie range of silks.
If I make changes in the colors above as I go, I'll let you know. But for now, the colors are chosen, I've assembled them in a tray along with a selection of #10 crewel needles and my favorite embroidery scissors, and I'm ready to stitch!
Well, almost – one more little job before the stitching begins. And I'll share that with you next time!
Questions? Comments? Have your say below!
If you'd like to read the backstory on the Mission Rose project and follow it along step-by-step as it develops, please visit the Mission Rose Project Index, where you'll find all the articles relating to this project listed in chronological order.