It seems that lately, most of the embroidery we've been talking about here on Needle 'n Thread has been fun, kind of casual stuff. The Stitch Fun series – the Hungarian Redwork Runner (yes, I'm still chugging on that) – the embroidered eggshells.
But between all the topics I've been writing about lately, I've been working out my next goldwork & silk embroidery project.
Among several ideas that have been stewing in the Noggin, there's one to which I constantly return – it's this old fragment of silk and goldwork ecclesiastical embroidery.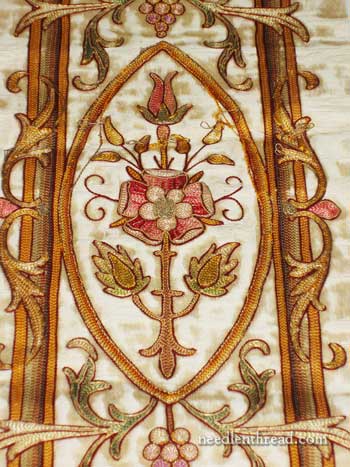 With a bit of doodling, I've come up with a feasible design that incorporates design elements from this piece (and especially the rose) into it, and … I just can't seem to resist it.
My greatest point of hesitation is that I just did a rose last year, in silk and goldwork. Should I do another rose, or should I do something a little … well… wilder? Out of six working sketches I'm playing with, why is another rose calling me?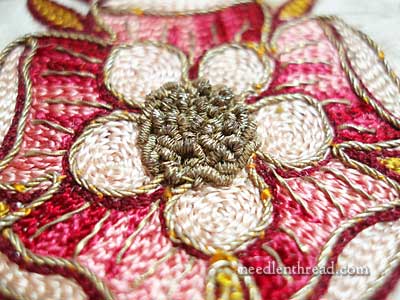 The new design is not precisely the same as this, but is based on this rose element primarily. There are some aspects of the old piece that I really like, and would like to incorporate into the new piece. For example, I just love the center pile-up of cut purls pictured above.
I'm not wildly keen on the leaves, though, so I've fiddled with them a wee bit, especially in the way they'd be worked.
If you look at the embroidery up close, you can see that it's a chain stitch filling (actually, tambour work). I like this, but I'm thinking more along the lines of a mix of fillings. I seem to have fillings on my mind lately!
Fillings. Nothing more than fillings….
You might remember when we were talking about this piece last August that I made a charcoal rubbing of the design. I took the rubbing and copied it several times, so that I could mark up the copies a bit. I also made one complete pattern tracing of the whole piece, for safe keeping.
Now, I'm fiddling with the design again, and I think I have something that works.
So. My quandary. And maybe you can help me solve it. Do I, or do I not, do another rose design? Is there really any solid reason you can think of, that I shouldn't do another rose? Is this design something you would be interested in seeing worked out and re-interpreted? What's your opinion? As usual, I'm all ears! I will, as always, appreciate your input. If you've got any thoughts on the subject, feel free to share them below!