For some reason, the Mission Rose has adopted a Dr. Seuss personality in my mind. I find myself equating the two leaves with Thing 1 and Thing 2.
There is something rather Dr. Suess-ish in their shape – if you took them alone, out of the project. Think of the hands or the hair of a Dr. Seuss character, and you'll see what I mean!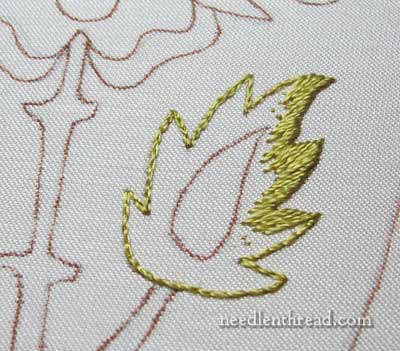 The second leaf on the Mission Rose is embroidered in exactly the same manner as the first leaf was embroidered.
Here's the second shade of green going in…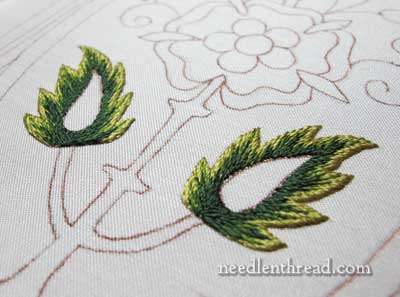 …and finally, the darkest green.
And I wasn't as pleased with the outcome of this leaf. I will take it out and re-stitch it.
I'll tell you what happened here. This whole leaf – being the size it is – doesn't take that long to stitch – maybe 20 – 30 minutes. But in that time, I had three interruptions, including a phone call which took me away from it for quite a while. So on this leaf, the rhythm of stitching just wasn't there – I'd get into it, and get pulled away, then get into it, and get pulled away.
On some types of embroidery, interruptions don't matter, but for me, on this type of embroidery, I need time to concentrate, to get a good stitching rhythm going, and to work towards a smooth, coherent image. I never do well with long and short stitch when I'm starting and stopping and starting and stopping.
Maybe it's just me, maybe it's the nature of the stitch…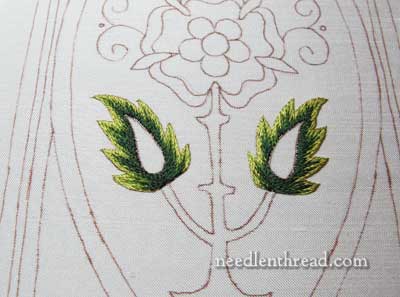 In any case, I'm not pleased with the lack of smooth transition on the whole right side of the leaf. The lower left side of the leaf looks pk, but the whole right side and the top left are both bothersome. So, it is inevitable – out it comes!
Mmmmm. Maybe it's just me…
Next time we visit the Mission Rose, we'll talk about the clean up job on this leaf, and (hopefully!) you'll see an improved leaf. We'll also glance at some of the smaller leaves in the design.
But before we get into that, there are a few topics in the queue, awaiting the light of day – including a progress report on another project.
Until tomorrow, then!
If you'd like to read the backstory on the Mission Rose project and follow it along step-by-step as it develops, please visit the Mission Rose Project Index, where you'll find all the articles relating to this project listed in chronological order.