Finally! The Fan Flower Monogram Alphabet is Finished! You can find all the letters for this alphabet – perfect for embroidered decorative initials and monograms – available on this Monograms for Hand Embroidery page, as well as indexed under the Patterns for Hand Embroidery page.
The "rush" to get these finished lately (did I say rush? I think I've been putting them on Needle 'n Thread since 2009!) is that I've been working with my collection of old publications, sorting them and organizing them. This means I'm digging up some treasures that need scanning and cleaning up. But no point in starting another collection with this one still hanging over my head, eh?!
So here's the rest of the Fan Flower alphabet – letters X, Y, and Z – with the printable PDFs down below.
There are many stitching suggestions for this monogram pattern throughout the posts for the whole alphabet, but especially on the post for letter A and on the post for letters P through W.
Eventually, I'll show you a stitched sample of this design embroidered. I'm working on some monogram samples as we speak! (Ok, not right as we speak – I haven't mastered the art of stitching and typing at the same time… yet. It's on my list of things to learn.)
And here are the PDFs for ease of printing, enlarging, and reducing. If you choose "no scaling" on your printer settings, the large initial will print at approximately 6″ high and the smaller one will print at 3″ high.
Fan Flower Monogram – X
Fan Flower Monogram – Y
Fan Flower Monogram – Z
Favorite Monograms – PDF Collection
You'll find this complete alphabet – along with 15 other decorative alphabets – all in one place in Favorite Monograms, a downloadable PDF collection of 16 monogram alphabets perfect for hand embroidery and other crafts.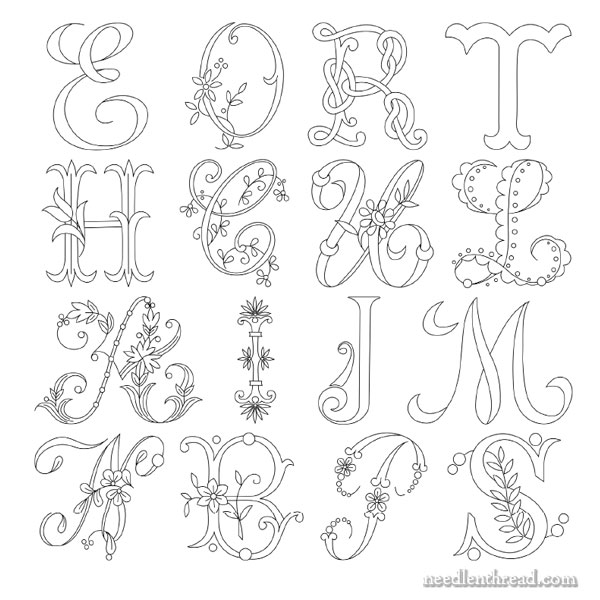 In the photo above, you can see samples of each alphabet available in Favorite Monograms.
Each letter in each alphabet in Favorite Monograms has been carefully traced into a clean line drawing that can be easily enlarged or reduced on a home printer or a photocopier.
The 16-alphabet collection is delivered as via a download link to your inbox shortly after purchase, so that you can begin creating right away! Priced at less than $1.00 per complete alphabet, monogram lovers can't go wrong with this collection!
Favorite Monograms is available in my shop, here.