Here are a few more patterns for the fan flower alphabet for hand embroidered monograms (or decorative initials) that I began posting a few years ago. I'm finally tying up this loose end and getting the whole alphabet in place.
And it's about time, too. The last letter I posted was O, and I don't even like to think about how long ago that was!
So here are letters P through W, all in one place, with individual PDFs below for each letter.
This alphabet came from an 1880's edition of Journal des Demoiselles, a French publication that often featured decorative alphabets for embroidery. When I initially (oh my, no pun intended) began re-drawing the alphabet and cleaning up the letters a bit, I had all kinds of ideas for them. And lately, I've been exploring some of those ideas.
Alphabets like these – especially from old French publications – often have letters missing. Some of the common letters that are missing include I, Q, and W.
Why, you might wonder? Well, the letter I and J are often considered interchangeable – sometimes they look enough alike that they can be exchanged without any confusion. There's some argument that it's also because, in old Latin-based languages, I and J were interchangeable. I've also heard the argument that it's because French names don't generally begin with I.
Q is often missing because an O can be used in its place, with a little swash added.
And the W can be had by combining two V's or by turning an M upside-down.
While cleaning the letters up, I put together the missing letters, too, just to make it easier for everyone.
These letters seem really elaborate, but they can really be worked as simply as you want to work them – or as elaborately. They'd make a great study for whitework techniques, using a combination of stitches that result in a variety of texture.
For example, the fan flowers and the recurring bars that decorate the letters could be stitched in satin stitch.
The letters themselves could be outlined in an overcast stitch (which turns out looking like a fine satin-stitched rope), or even in a simpler stitch like stem stitch, or whipped backstitch.
The inside of the letters could be left voided or empty, to contrast with the satin stitch flowers and bars.
Or they could be filled with seed stitching, which is often used to add texture to monograms.
There are plenty of other stitches that could be used all over these letters. I can see the petals worked in fishbone stitch or closed herringbone stitch. Or basket stitch. Closed cretan stitch? Rhodes stitch for the dots?
Fan Flower Monogram Alphabet Printables
If you'd like to print out the letters included in today's article, you're most welcome to. You'll find the PDFs listed below. Each page has both a large and a small version on it. If you choose "no scaling" in your printer settings, they should print with the large letter at 6″ high and the small letter at 3″ high.
Fan Flower Monogram P
Fan Flower Monogram Q
Fan Flower Monogram R
Fan Flower Monogram S
Fan Flower Monogram T
Fan Flower Monogram U
Fan Flower Monogram V
Fan Flower Monogram W
Favorite Monograms – PDF Collection
You'll find this complete alphabet – along with 15 other decorative alphabets – all in one place in Favorite Monograms, a downloadable PDF collection of 16 monogram alphabets perfect for hand embroidery and other crafts.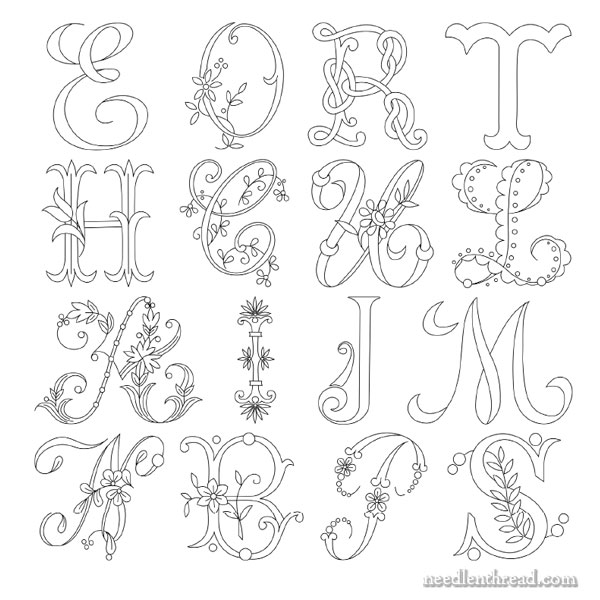 In the photo above, you can see samples of each alphabet available in Favorite Monograms.
Each letter in each alphabet in Favorite Monograms has been carefully traced into a clean line drawing that can be easily enlarged or reduced on a home printer or a photocopier.
The 16-alphabet collection is delivered as via a download link to your inbox shortly after purchase, so that you can begin creating right away! Priced at less than $1.00 per complete alphabet, monogram lovers can't go wrong with this collection!
Favorite Monograms is available in my shop, here.