I tend to underestimate brown. When considering colors for an embroidery project, it's never one of the first colors I think of.
But embroidery thread manufacturers know – and have known for a long time – that brown is one of those essential colors, and so essential, in fact, that browns – all manner of browns – often make up a decent chunk of the colors available in a line of embroidery thread.
There are brown-browns. There are green-browns. There are gold-browns and yellow-browns. Tannish-browns and blackish-browns. Reddish-browns. Grey-ish browns. Pinky-browns. Taupey-browns. There are white-ish browns, even.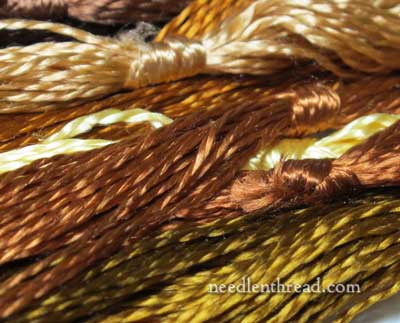 And browns can be used for much more than just tree trunks and twigs, hair and beards, birds and beasts. They can be blended into other colors to produce subtle shading – or to trick the eye into seeing a whole different color.
Browns are definitely a key player in skin tones, especially if you don't want your embroidered faces and hands to look dead and flat.
They mix with greens, with reds, with blues, with golds beautifully, to shade or accent.
Lighter browns can be mixed with shades of white to give white elements dimension. (For example, I used shades of light browns frequently with the whites in this Agnus Dei project.)
This is stuff I know about brown. And yet, when I approach planning colors for a needlework project, the browns come as an afterthought.
I underestimate brown. But I'm working on that. I'm trying to Think Brown more often when planning my needlework.
The threads in the photos above are antique silks produced somewhere between the end of the 1800's through the beginning of the 1900's by Belding Brothers, which I've written about before. There are two types of silk in the photos – one is called "Royal Floss," a heavier, single strand of lightly twisted silk (you can see it at the upper left on the photo directly above), and the other is "Filo," a stranded silk floss that separates into six fine strands.
The silks produced by Belding Brothers and other silk mills in the US & Canada figured heavily in the Society Silk era in American embroidery history, and they were also the key element in most ecclesiastical embroidery produced in this country from the mid-1800's through the mid-1900's.
They had a lot of browns available. They didn't underestimate brown.