Remember the book Home Sweet Home by Carolyn Pearce? I reviewed it when it first came out, and it proved to be quite a popular book – so much so that it sold out and whether or not it would ever be printed again was uncertain.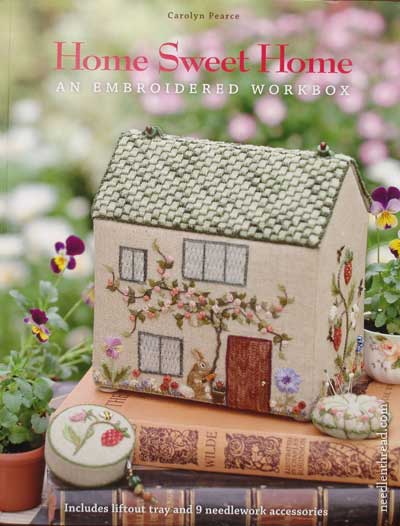 Home Sweet Home is a jolly book for learning finished techniques and for making finished embroidered items. And the good news is – Country Bumpkin is having it re-printed!
And speaking of Home Sweet Home, the Stitching Shop in Denver, Colorado has apparently managed to source all the supplies for the project in the book, to sell them as a kit. They also have (or had) a few copies of the book left at the time I communicated with them, but the copies are for sale only in conjunction with the kit.
I couldn't find the actual kit on the website, but if you're really keen to have the kit for the projects in the book, I'd definitely drop them a line!
If you live in Colorado and are looking for a needlework shop, you might check them out. It looks like a nice shop – it's on my list of places to visit next time I head west to the mountains.
I'm excited about the re-printing of this book! It's hard to find through used booksellers. I found one French copy available for 40 or so euros, but other than that, unless you can find it still in stock at a local needlework shop, it's hard to come by.
Here's hoping you can fit in a little stitching this weekend. Are you working on anything fantastic? If all the stars and planets are aligned in my favor, I'm planning to finish one particular project today – I'll show it to you next week.
Until Monday!