The satin stitch is complete on the outer parts of the petals on the Mission Rose.
It dragged out a bit because I was avoiding the inevitable: I had to make a decision about the stem on the rose.
It was a thread decision: To switch, or not to switch? Whether 'tis nobler in the mind to suffer the shortage of brown shades in one line of thread, or to take arms against the shortage, and by switching from one line of thread to another, end it?
I switched threads.
Here's the rose, all satin-stitched up. I like the satin stitching. But looking at it now, I find myself wondering:
Will the rose look better with gold threads, or without them?
Ahhhh…. anticipation! See, I've been musing that point. Is this piece of embroidery necessarily Destined for Metal Threads?
At this point, I think it is. But it doesn't have to be. And I might find, once I get to that point, that goldwork doesn't really work with this piece.
We shall see!
I've already changed my mind a few times through the course of the piece, for one reason or another, but here's a Major Switcharoo: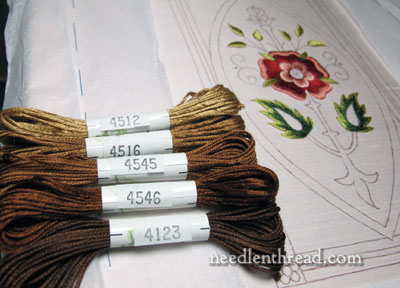 Initially, all the silk on the piece was going to be Soie de Paris. But the browns in that range are somewhat limited. I could have managed – I could have used just two colors of brown. After all, the piece is very stylized, and "flat" color is not unusual in such designs.
I thought about working the lighter brown Soie de Paris for the whole stem, then going back and adding some sketchy strokes with dark brown, just to give it some shape and definition.
But then…
But then…
But then the lazy side of me won out.
Soie d'Alger is easy to work with, the range of browns is extensive, and I wouldn't have to guess my way through techniques, trying this approach or that approach to get the look I want. With Soie d'Alger, it's just a matter of painting away with the shades in long and short stitch. No guess work. Just straightforward, everyday stitching.
More or less.
Hopefully.
I guess we'll know next week!
Thoughts? Ideas? Reprimands? Coals to heap upon my head for making the thread switch? Anyone? Have your say below!
If you'd like to read the backstory on the Mission Rose project, or catch up with the project from the starting point, check out the Mission Rose Project Index, where you'll find all the articles relating to this project listed in chronological order.