Remember the Lattice Jumble Sampler that somehow morphed out of the Stitch Fun series? It's been a little while since we visited it, but I thought I should let you know that it's finished.
But…. there's more….
Don't worry – I didn't expand it, make it larger, add more fabric…
Lattice Sampler Layout Guide – It's a-Comin'!
Several stitchers have requested a "layout guide" for the sampler, so I've worked up something that includes close-ups, diagrams, the layout of the sampler in sections, and even some stitching tips.
The Lattice Jumble Sampler Guide is now available here!
Do look for it! If you're stitching the Jumble with a group or individually, or stitching your own version of the Jumble, you'll find it mighty handy to have a printable layout with tips, close-ups, and explanations of stitches and combinations of stitches.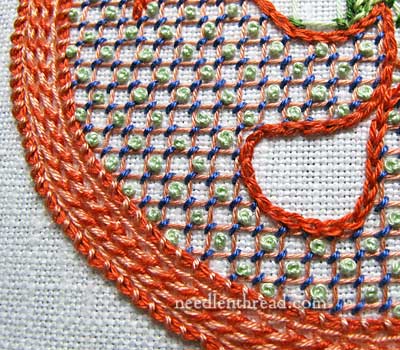 The pattern for the sampler was titled Jacobean Jumble, so I call it lots of things – Jumble, Lattice Jumble, Lattice Sampler, Jumble Sampler.
One thing I don't call it is "Jacobean," because, aside from a few elements twisted into the design, I'd be hard-pressed to make a case that the thing smacks of anything remotely Jacobean.
The last major part to finish on the sampler since the last time we visited it was this wide path running along the lower left side of the design.
The path breaks at this circle, and then continues up into the middle of the design.
The voided area in the middle of the circle above stands out in pretty high contrast on the sampler, because there aren't many empty spots within the embroidered area.
This is another voided circle, and below it, just to the lower left (at about 7:00 o'clock, if you think of the circle as a clock face) was the other little bit that had to be finished. It's an extension of the stem that passes up around the spiral on the top right side of the design.
I had a moment's hesitation about these three elements. I almost took them out! But then I remembered that this was just a Stitch Fun Sampler – it was supposed to develop randomly. And these were part of its random development. So I left them, after all.
If you'd like to work this sampler on your own using the convenient layout guide, you'll find the Lattice Jumble Sampler Layout Guide available right here. It's an e-book, so you can get it today, and start creating your own unique lattice jumble sampler.