The Lattice Jumble Sampler is completely finished – and the Jumble Sampler Layout Guide is now available!
What can you find in the guide? All kinds of stuff! Read on, and I'll tell you about it and show you the finished sampler…
The layout guide is a 40+ page PDF with a clickable table of contents, packed with 125 photos and diagrams to help you create your own Jumble sampler.
Each section of the sampler is broken down into individual elements, and each element is clearly explained. Close up photos let you see the details of the finished stitching – much more clearly than you can see when viewing the sampler online.
Throughout the guide, you'll find maps of each section of the sampler, so that you know exactly what fits where.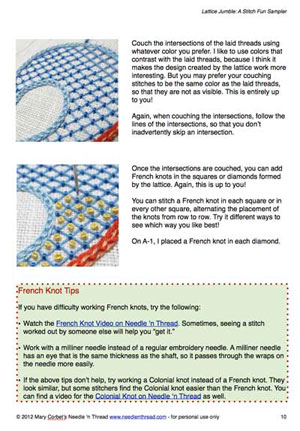 You'll find explanations of the stitches in each section of the sampler.
You'll find lots of tips and hints scattered throughout the guide, too, to help you over any tough spots. Beginners will find these especially helpful.
What else? You'll find a stitch index with step-by-step photos of six of the more complex stitches used on the sampler, including battlement couching, griffin stitch, Hungarian braided chain stitch, interlaced chain stitch band, laced lattice stitch, and raised stem stitch.
You'll also find a section on substituting different materials and a section on resources for fabrics and threads.
And here's the finished sampler for you, border and all!
If you're interested in working your way through the Lattice Jumble Sampler and would like a field guide to take with you on the journey, you'll find the Lattice Jumble Sampler Guide available in my shop.
The PDF is readable on computers and tablets – any devices that can open PDFs. It is also printable, and you can choose to print the whole thing in color, or you can conserve paper and ink and print only the pages you want or need, or you can adjust your printer settings to print black & white – whichever works best for you!
When you purchase the guide, you'll receive an e-mail with a download link in it. For security reasons, the download link is good for a limited number of days and a limited number of downloads. When you receive the email, go ahead and download the e-book to your computer right away, so that you'll have it when you want it.
Grab your copy of the Lattice Jumble Sampler Guide today!
Have a great weekend!