'Tis Monday, and a good day to announce the winners to last week's give-away of little needle tins and needle ID cards. It is also a good day to pass on my thanks for lots of things!
I had fun with this give-away, I admit! The answers to the give-away question were quite diverse and interesting – it's always fun to see where people's interests lie in the whole wide world of embroidery.
But what I enjoyed most? The fact that so many of us have the same difficulty in narrowing down a choice of "favorite" when it comes to embroidery! Not that I was trying to make the question difficult on purpose, or anything…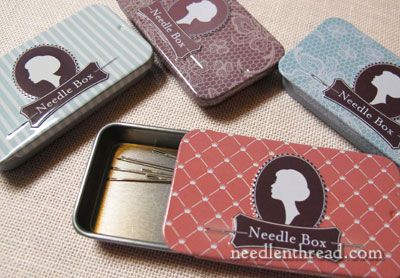 Thanks to all for participating and for giving me much to think about, too. The reasons you give for liking what you like help me to have a better understanding of needlework and the ways in which it can attract people. And this will help me, I am certain, to write better articles about needlework and to do a better job at promoting hand work. So, thank you!
Here are the two winners from last week's give-away (drawn randomly):
Malissa F, who wrote: I love the vintage needle tins! That being said, my favorite work is vintage hand embroidery. I do many pillowcases just as my Grandmother and Great Grandmother did. I love their vintage look along with dresser scarves and hand towels. When I sew, I feel like my Grandmother is looking down on me and smiling. She would be proud to know I carry on her tradition.
Linda Terrill, who replied: My favorite all time embroidery is… omg I love it all: samplers and making smalls and little boxes covered in stitching. I love hardanger, I love whitework, I love blackwork, I love it all. I just keep trying new stitches and improving my skills.
Congratulations, ladies! Please drop me a line with your mailing address, and I'll get a little package on its way to you soon!
Thank You!
A very big thank you to all who purchased the Lattice Jumble Sampler Guide this past weekend. If there's anything you think could be improved upon, I would be grateful to hear from you. If there's anything you have a question about, I would be happy to help you. Just let me know!
Your purchase goes a long way in supporting Needle 'n Thread and making it realistically possible to keep the site going forward. So I am every grateful! Thanks so much!
Coming Up
This week, we have Stuff to talk about! Of course, we must explore that Mission Rose further – an update is due, and you'll see how the satin stitching is turning out. And Thread Talk! There's some thread talk coming up, about an embroidery thread that's been around for quite a long time, but is perhaps somewhat obscure. And a little chatter about a piece of equipment that came my way haphazardly (and a little sadly), but that I'm enjoying immensely. And finally, some other stitching updates. It's a busy week, and I hope you'll join me and enjoy it!
See you tomorrow!