I'm overlapping my Stitch Fun articles these days, playing back and forth between lattice fillings (like the Griffin stitch and these lattice variations with French knots) and lacing and whipping various embroidery stitches.
Working on a very strange looking sampler pattern that I'm calling Jacobean Jumble, I've been embroidering different Stitch Fun stitch combinations and varieties onto the sampler. With a sampler that is made up of shapes rather than lines, you can especially see how filling stitches like these lattice variations can work on your own projects.
The last time we looked at lattice fillings on shapes, I filled the resulting grids (one diamond-shaped, the other square) with French knots, in each little open area of the grid. On this shape pictured above, I worked a small diamond grid in a pale salmon, with the intersections couched in a dark blue, and instead of placing a French knot in each opening in the grid, I worked in every other opening. This creates a lighter look to the filling, but also adds some nice texture from the French knots.
You Can Draw the Whole Line
With this particular shape, you can see how a lattice filling can fill any wonky shape! It's just a matter of gridding out your lines carefully, so that they carry neatly across each part of the shape. In this case, I actually marked the full line with a ruler using a light pencil.
If you draw your grid lines onto the fabric with a light pencil, even with a fine thread like coton a broder (which is what I'm using in all these lattice demonstrations so far), you can easily cover the lines with the long laid stitches that make up the lattice.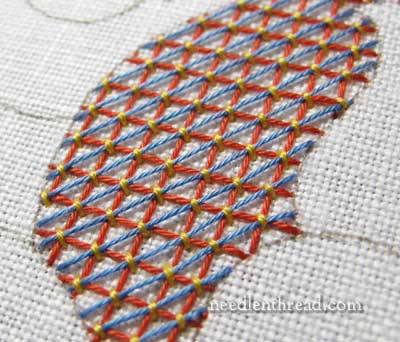 Here's another variation. This one has three layers of laid stitches. The first two layers are in an orangey-red, making the square grid. Then I crossed the diagonal of the grid with blue. Finally, I couched the intersections with bright yellow.
You'll notice I haven't outlined any of these shapes first. That's because I'm not 100% certain yet what's coming next, and how I will work the next filled area in with this filled area. Well – that's the fun of a sampler! You can pretty much play around with any approach, to see what works best.
Here, you can see that the blue diagonal laid stitches cut across each square in the foundation grid. You can achieve a more open look to this filling, by taking the diagonal over every other row. But I wanted a slightly denser filling, so I worked diagonally over each line of squares.
Tension on Couching Stitches
When couching the intersections, be careful with your stitch tension. If you pull your couching stitches too tightly, your laid stitches to pull in at the intersection and bump up in the middle between the couching stitches. This can actually look interesting, but if your couching stitches are even slightly off, it will be much more noticeable. Also, pulling too tightly can cause the grid to look slightly warped.
You want your couching stitches just to hold the intersections in place. Pull the thread through on each couching stitch with enough tension to hold the intersection in place, but not so much tension as to choke the life out of the laid threads!
Here, you can see the French knot filled lattice we looked at last week in the background. The top one (with the salmon pink French knots) is not quite filled. That's a lot of French knots!
Here, you can see a smattering of all four lattice variations. On the right, the two lattices filled completely with French knots, one made from a square grid, and the other from a diamond shaped grid (which is just a square grid, turned 45 degrees). The center is the square grid cut by one layer of diagonal laid stitches. On the left, you can see the square grid with French knots in every other square.
So you can see that it's just a matter of changing the various elements of each lattice ever-so-slightly, to get a different look.
Jacobean Jumble Sampler Pattern?
If you're interested in this "Jacobean Jumble" drawing, let me know, and I'll post it for you. It's definitely nothing beautiful – it's just two Jacobean motifs that I've swirled together into something resembling a splotch or a glob. Sounds lovely, doesn't it? But it does give me plenty of scope for filling shapes and for working some lines, bands, and circle elements that we've covered in the Stitch Fun series.
Have You Latticed Lately?
Have you done anything with lattice stitches lately? Is there anything about lattice stitches that you don't like, or that might intimidate you? Do you have any tricks or techniques for working lattice stitches that you'd like to share with everyone else? Have your say below – we're all ears!
(Shhhhhhhh…. don't tell anyone, but Monday, I'm giving away three Trish Burr kits….! Keep an eye out for the give-away!)
If you enjoy these tips on varying your embroidery stitches, you might want to take a look at the Stitch Fun series here on Needle 'n Thread. It's a series articles focusing on particular stitches and techniques that can help you add variety to your hand embroidery projects. In the series, we explore various stitches, combinations, or variations that are, in short, fun!