The other day, we looked at Griffin Stitch, a lattice filling, as part of the Stitch Fun series. While playing about with that particular lattice variation, I discovered something that you might discover, too, if you're fiddling about with lattice stitches any time soon.
They're kind of addicting.
Here's a really simple lattice variation that's a lot of fun, and that has the added bonus of texture – thanks to the French knots. French knots are lovely little things, aren't they? And they're nice and bumpy.
Today, let's look at this lattice filling, and chat a bit about working lattice stitches on plain-weave fabric when counting isn't an option.
In this article, I'm working on a plain weave linen that has approximately 40 threads to the inch, but since it's plain weave, it's not necessarily perfectly even in both directions. I'm using coton a broder 25 for all the threads.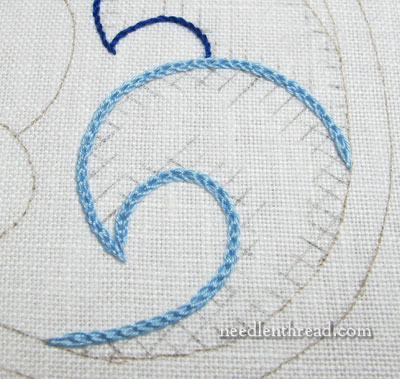 Well, if you're not working on an even-weave fabric which allows you to count off spaces for perfectly spaced lattice lines, what's one to do?
Lattice on Plain Weave Fabric
There are two options for spacing the lines of your lattice on plain weave fabric: you can either eye-ball your line layout as you take each stitch, or you can mark your lines on your fabric, either during the transfer process or before you outline and fill the area. Once you get used to working lattice stitches, it's much easier to eyeball the line placement, but until you're confident in doing so, marking would be the better option. A wonky lattice tends to look… well. Wonky.
It's much easier to mark in your lattice lines when you transfer your design in the first place, but this doesn't necessarily work if you're "doodling" without a definite idea of what stitches are going where, which is what I'm doing on this particular sampler.
If you decide to add a lattice filling after you've already mounted your fabric on your stitching frame or in your hoop, you'll need to put something underneath your work (like a book, or something else that's hard and fits inside the back of the frame or hoop) while you use a ruler to mark in at least the beginnings and ends of the lines.
I find it easier in situations like this to use a clear, small ruler. A small clear quilting ruler with eighth inches marked out would be ideal, but I couldn't find mine, so I resorted to this one.
When you mark the lines in – whether during the design transfer process or while you're stitch doodling – keep the markings as light as possible, but make sure that they're still clearly visible and that they extend a way beyond the edge. When you outline the edge of the shape, the lines should still be clearly visible.
Outline first. Why? Two reasons:
1. Your outline stitches will give you a place to anchor the lattice threads invisibly on the back, and…
2. Outlining before you stitch ensures that the outline is accurate. It won't be discombobulated by coming into contact with the lattice stitches. Sharp and accurate outlines are important, so it makes sense to pay attention to stitching an accurate outline first.
After you've stitched your outline (the type of stitch you use is up to you), you can use the stitches on the back of the fabric to anchor the threads for your lattice stitches by whipping the working thread around the back of the stitches.
Work your lattice in one direction and then in the other, just as we did with the Griffin Stitch.
(I know, I know, that reddish orange line looks a bit bizarre. I'm not sure that it will improve down the road.)
Once you've got your lattice threads laid down, couch over the intersections with your choice of thread and color. Follow a reasonable order as you couch, working either down the columns of intersections or across the rows.
Then, if you want, fill the middles with little French knots!
Ahhhh. I like these little lattice things! And there's bound to be more to come…
Stitch Fun is a series of stitching tutorials here on Needle 'n Thread, where we explore different types of embroidery stitches just for the fun of it. If you'd like to peruse some of the other tutorials in the Stitch Fun series, feel free to stop by and visit the Stitch Fun Index, where you'll find links to all of them!