The lattice variation with French knots that we looked at yesterday lead to some questions about threads and stitches.
So, I'm turning one of those questions into a contest! That's right – if you're the first to answer correctly, you'll get a prize!
With about twenty e-mails asking what stitches are outlining yesterday's lattice variation, I was thinking there might be more people wondering the same thing. Can you guess what the light blue / dark blue stitch variation is, outlining the "wave" of lattice filling?
What about this stitch variation (the reddish-orange one)? Can you guess?
Next week, I've got an article lined up for you that will show you up close and personal what these stitches are. They've actually been covered here on Needle 'n Thread in some form or another in the past, but I'm going to put a few of them (and similar approaches to varying your stitches) together for you, to give you some more stitches to play with.
You'll Get a Prize!
In the meantime, can you guess what they are? First person to name and explain what is going on, stitch-wise, in both outlines will get a prize! I'll give you one of the six items that I'm giving away this coming Monday. Just leave a comment below with your answer, and whoever correctly names and explains what both stitches / variations / techniques pictured above are first (in the order that the comments come in) is guaranteed one of Monday's give-away prizes!
This is just a casual approach to a contest – thought it might be fun…
Thread in the Lattice Filling
The thread used in yesterday's lattice demonstration is coton a broder #25 (also known as Art. 107) by DMC.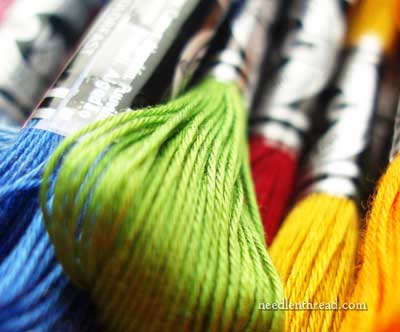 I've talked about this thread quite a bit lately, because I'm using it on my Hungarian Redwork Runner project, and (as you can see) I'm also using it on the sampler I'm putting together to work out stitches for the Stitch Fun series.
It's a non-divisible embroidery thread, so it's not the same thing as regular cotton floss with six strands that you pull apart. Coton a broder is used straight off the skein, in one thread, not taken apart. It's about the thickness of two strands of DMC stranded cotton floss.
That being said, yes, of course you can substitute regular embroidery floss for the coton a broder when playing around with the lattice variations! You'll probably want to use at least two strands of regular floss – perhaps three. Play around with it and see what works best. That's half the fun!
Upcoming!
Keep an eye out for this, coming up soon!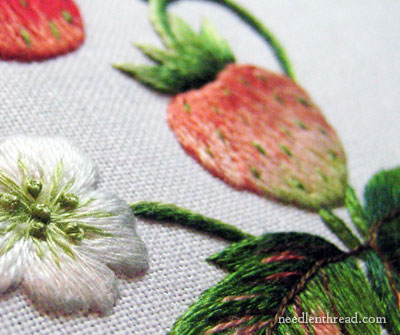 That's right – an encore class for Margaret Cobleigh's Vintage Strawberries! Perfect for inspiring thoughts of spring and summer, the class is dedicated to learning needlepainting (long and short stitch shading), using a beautiful vintage strawberry design.
Next week, I'll have full details about the class available for you, including the date and time that registration will open. Classes on Needle 'n Thread tend to sell out quickly (as in, within-20-minutes-quickly), but we've opened this one up with a few more spaces, so that more people will have the opportunity to take the class.
If you're interested in improving your needlepainting skills or learning the art of needlepainting from a master in the technique, you'll want to take this class! During the class, you'll receive personalized instruction and feedback in an interactive online setting, where you can enjoy the support and camaraderie of fellow stitchers.
I'll have all the details up on that, later in the week. Watch for it!