Stitch Beautifully. I think this is a great motto for embroiderers – something that we all try to aspire to in our own way.
Admittedly, I don't always succeed! There are days when I make a perfect mess with my stitching, and I have to rip it out and start again. But that doesn't keep me from aspiring to stitch beautifully. Pretty much, all my efforts are aimed towards that simply put phrase.
And today's give-away is aimed at keeping us all inspired to Stitch Beautifully!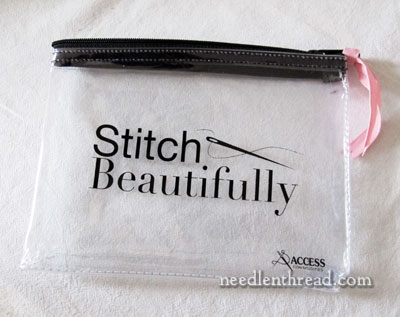 I'm giving away five Stitch Beautifully zipper bags made by Access Commodities. They're great little bags! Heavy duty and clear, with a sturdy zipper and pink ribbon zipper pull, they're perfect for storing stitching accessories, tools, threads for a portable project, and the like.
Little project bags like this are so handy! I'm forever using similar pouches for separate projects that I have going. It helps me keep each project organized and ready to grab at a moment's notice.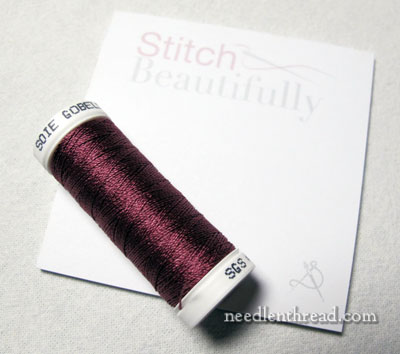 Inside the bag, you'll find a full spool of Soie Gobelins, which is a fine, tightly twisted filament silk thread, perfect for detail stitching.
You'll also find a little pad of sticky notes. I love sticky notes! I use them All the Time. They are my Second Brain. And I love it when I find sticky notes that are stitch-related (which isn't often!). Makes me feel somehow better about having them stuck all over every surface in my workroom…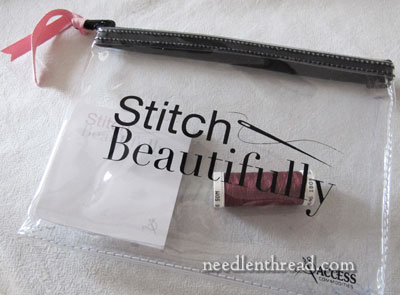 It's a nice little package of stitchy treats that would be fun to see in your mailbox!
Give-Away Guidelines
To enter today's give-away, please follow these guidelines:
1. Leave a comment below (on this article on the website, not via e-mail), answering the following question:
What's your favorite embroidery stitch?
2. In your comment (either in the name line on the comment form or in the comment box), please make sure you leave a recognizable, non-confusable name. For example, if your name is Pat, please qualify that somehow, since there are lots of Pats out there!
3. Leave your comment before 5:00 am, Friday, January 18th. I'll announce five winners that day!
A Winner Already
On Saturday's blog post, I asked readers to take a stab at naming the two stitches bordering the lattice work sample from Friday's article. You can read the challenge to name the stitches here.
What's the light blue and dark blue outline in the photo above? It's Hungarian braided chain stitch, with one side whipped.
And what's the reddish-orange outline in this photo? It's interlaced chain stitch, which we've covered in the Stitch Fun series – only I didn't couch the outside of the lacing stitches.
For the first person who named & explained correctly what was going on in those outlines, I reserved one of these bags (I have six).
The winner from Saturday's guessing game is Brynn! She was the first to name both correctly. The second stitch, she described as a chain stitch with either a buttonhole or Pekinese-type lacing on both sides. She's right – it's essentially a chain stitch with the lacing done like a Pekinese stitch.
Thanks for playing that game. It was fun! I might do more of that in the future.
But I'm not making you work quite so hard for a chance to win one of these cute little bags today. Just tell us your favorite embroidery stitch in the comment you leave below, and you'll have a chance to win one of the five remaining bags.
Go to it!