Do you find yourself forever leaning towards the same ground fabric every time you start a new embroidery project? Do you gravitate towards the same basic color schemes? Do you find yourself resorting to the same set of embroidery stitches each time you tackle something new?
You aren't alone. I think for many hobby embroiderers, this is the case. It's definitely the case for me. I gravitate towards linen, and normally, it's white or natural colored. I generally select very similar color schemes for my projects. And I rely on my tried-and-true favorites when it comes to selecting stitches.
I'm not saying this propensity towards a particular set of anything is good or bad, because it's neither, necessarily. If your whole reason for embroidering is that it gives you pleasure, and you find pleasure in your particular customary choices, then that is great!
When it comes to free-style surface embroidery, though, one of the many pleasures that it affords the stitcher is variety. So many ground fabrics! So many possible color combinations, so many possible threads and textures to choose from, and oh-so-many stitches and stitch combinations!
And yet…. and yet…. I still have my favorite ground fabrics. My favorite color schemes. My favorite stitches and stitch combinations.
The two photos above remind me of summer. They remind me of pink lemonade. Of watermelon. Of bright sunshine. Part of this is because they are worked on a white linen ground. The white linen brightens the colors up and makes them intense.
Change the ground fabric to a natural linen, keep the same color scheme, throw in some white, and voilé! Still bright and chipper – but not quite "Summer". Spring. But not summer. It doesn't have the same bright-sunshine-intensity with the natural background.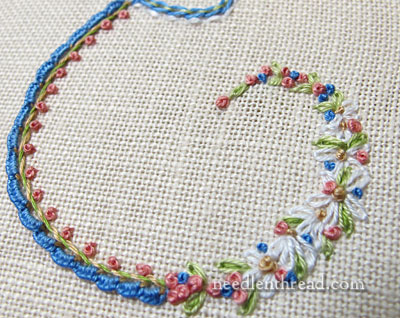 Keep the same stitches, change the background to a creamy, yellowy off-white, and change the thread color scheme, and a whole different look develops. It's a bit muted (though the blue livens in up a bit).
Ground fabric, thread types and colors, stitch choices – these are the things that keep free-style surface embroidery from ever becoming dull.
If you're wanting to mix things up a bit from your normal customary choices, try switching your ground fabric. Try a new linen! Try new threads! Work in a couple obscure stitches or combinations. Get adventurous with a color scheme!
It's therapy, I tell you. Therapy.