Thanks to all who participated in the give-away run earlier this week for five full skeins of overdyed threads from Lorraine at LES Designs!
It was a fun give-away, and interesting to hear your preferences on colors and thread types. There's nothing quite like discussing embroidery threads with a bunch of thread lovers! We do get enthusiastic, don't we?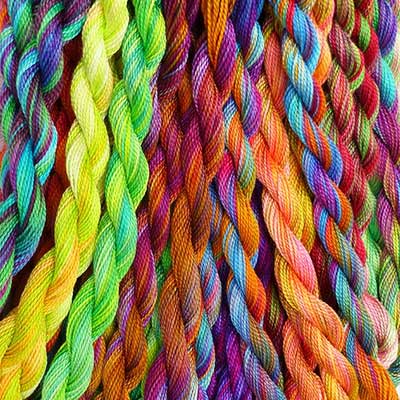 But on to the winner, because I know that's what you really want to hear!
The winner is… Teresa Murphy, who responded to the questions thusly:
I have to say that these fibers are amazing. I had never seen them before. I really like the different pearl cottons in the same colorways, but the silks are just fabulous. So I think I would go for some silk and use them in a stitch sampler pattern I have. Thank you. Teresa Lynn
Congratulations, Teresa! If you would drop me an email with your mailing address, I'll send the information along to Lorraine and you two can work out the details of the prize together.
Thanks again to Lorraine at LES Designs for offering the threads for a give-away!
Enjoy your Saturday!