Once Upon a Time, there wasn't a little squirrel.
When developing the various projects for Lavender Honey & Other Little Things, nestled snuggly on the list of ideas was a squirrel, but he didn't make the final cut.
This is his story.
This wee Squirrel that Wasn't – let's call him Stitchy the Squirrel – began as a sketch within an outline of red backstitch on linen.
Because he was so small – his fairy godmother squeezed him into a two inch square outline, making him a small squirrel indeed – he wasn't very detailed.
But he never held it against his fairy godmother that she concocted a body for him that looked more like a penguin's body.
His fairy godmother gave him a pine needle wreath and hung within it a fat, tasty acorn.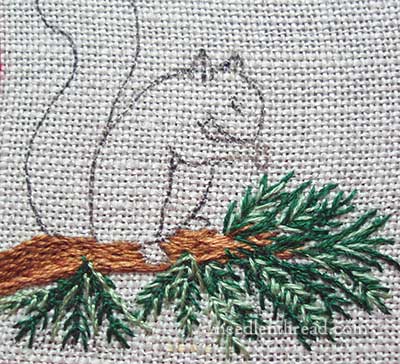 She then began to decorate his perch and add a little color to his life.
Using regular DMC stranded cotton, his fairy godmother worked up a lush branch of greenery for him to stand on. She used stem stitch for the branch, adding evergreen sprigs in dark green and light green with a combination of stem stitch, straight stitch, and fly stitch.
Then, because winter was coming on, she began to give Stitchy a nice, warm, woolen coat, which was made with Fine d'Aubusson wool threads in long and short stitch.
And so that Stitchy could see well when foraging for nuts and other good things to eat, his fairy godmother bestowed upon him a gargantuan eye, using a granito in dark brown wool.
Stitchy never really forgave her they eye. He felt it made him look rather ridiculous.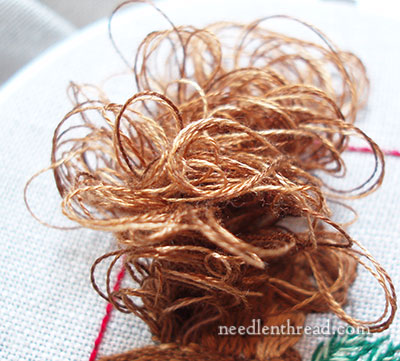 To make up for the ridiculous eye and to give him something to be proud of, Stitchy's fairy godmother bestowed upon him the most luxurious of squirrel tails, using several strands of DMC floss in different colors of brown to create this Turkey work masterpiece.
Stitchy was in a panic when he saw that tail go in! What was his fairy godmother thinking?? She always seemed so level headed, but he feared the worst. She had gone… nuts.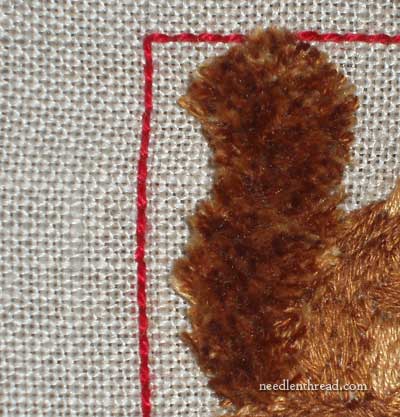 Eventually, Stitchy's tail was trimmed, but it was too late. All of his weight was in his tail end, and he was feeling pretty unbalanced and miserable.
Though his fairy godmother had all the right intentions and wanted him to live happily ever after with his sumptuous tail, poor Stitchy was put on hold and nestled away within a box, to wait.
He's been scratching around in there. He wants to get out.
I think he just might….